The How Not to Die Cookbook
an instant New York Times Best Seller by Michael Greger, M.D., FACLM with Recipes by Robin Robertson
Introducing The How Not to Die Cookbook, the acclaimed culinary companion to New York Times bestseller How Not to Die, by physician, international lecturer, and founder of NutritionFacts.org, Michael Greger, M.D. FACLM, with recipes by Robin Robertson.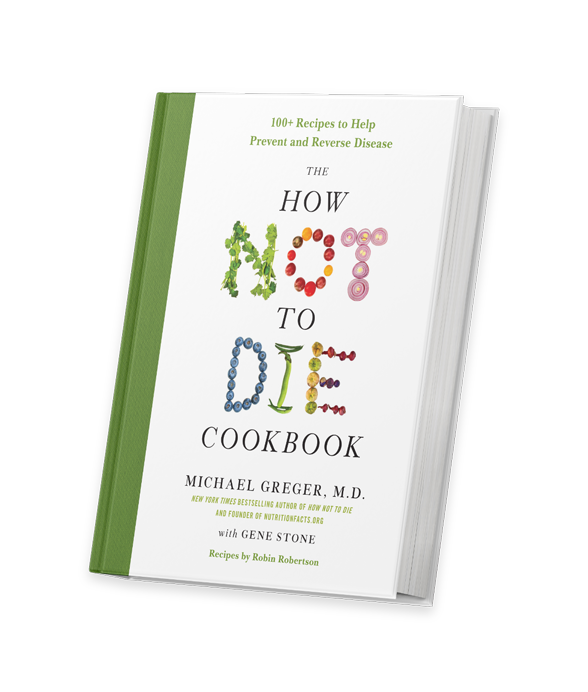 This beautifully-designed, comprehensive cookbook boasts more than 120 recipes for delicious, life-saving, plant-based meals, snacks, sauces, desserts, beverages, and more.
Dr. Greger's bestselling book, How Not to Die, presented the scientific evidence behind the only diet that has been shown to prevent, arrest, and even reverse the progression of some of our deadliest diseases. Now, The How Not to Diet Cookbook puts that science into action. From Superfood Breakfast Bites to Zucchini Noodles with Avocado-Cashew Alfredo to Roasted Asparagus with Yellow Pepper Béarnaise to Two-Berry Pie with Pecan-Sunflower Crust, every recipe in this gorgeous collection is simple to prepare and delicious. Cook your way to better health!
Rooted in the latest nutrition science, these easy-to-follow, stunningly photographed recipes will appeal to anyone looking to live a longer, healthier life. Featuring Dr. Greger's Daily Dozen―the best ingredients to add years to your life―The How Not to Die Cookbook is destined to become an essential tool in healthy kitchens everywhere
The How Not to Die Cookbook is also available in multiple languages. To order the book from international vendors, see the list on our help desk. Check out Dr. Greger's other books presenting the latest in nutrition science.
El Dr. Greger dona el 100% de las ganancias de sus libros a la caridad.
Featured Recipes