The big day is here! How Not to Diet is now available in book stores across the U.S.—I can't wait until people start digging in!
If you haven't seen it yet, the book trailer is live here on NutritionFacts.org, so you can get a peek at what the book is all about.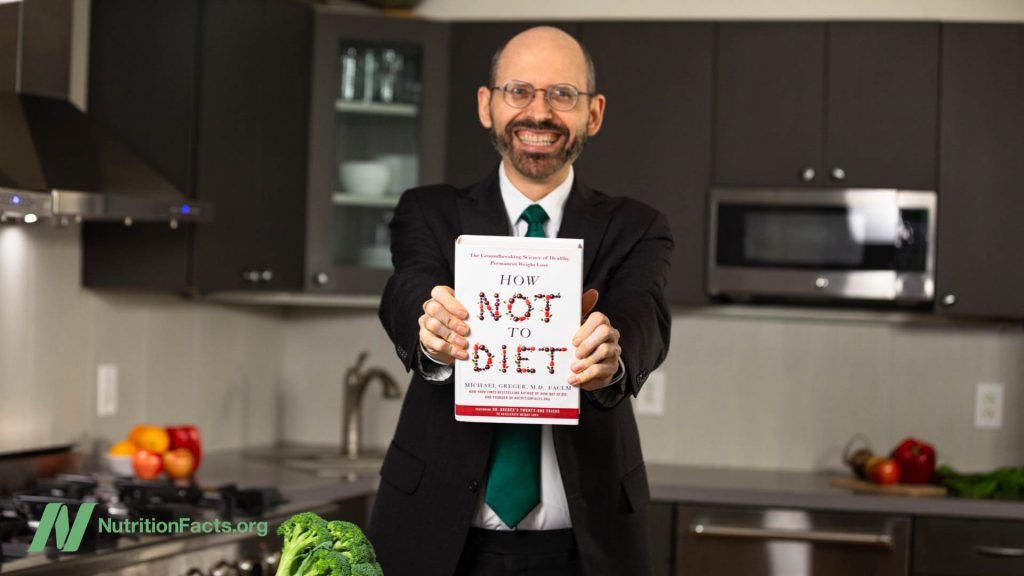 For even more of a sneak peek, we have both the written preface and the audio introduction up on the book page, for free download! 
Attention UK residents: Sorry, you have to wait two days! The book comes out on December 12 in the UK, but you can pre-order your copy here now.  And for everyone else, we will continue announcing global releases as they come up. How Not to Die was eventually released in 34 languages, and I assume we'll reach the same critical mass with this one.
What people are saying:
"This book is ground zero, redefining weight management for the generations to come, by way of preventative approaches to combating the leading causes of death and disease. There is a sincere warmth that emanates from Dr Greger's words in How Not to Diet, that creates a safe atmosphere around an emotionally charged topic. His big picture examination of the factors that affect weight are presented in a way that comprehensively demystifies, with credible evidence based science, perhaps the most convoluted health subject of our time."
-Stephanie Patterson, writer and documentarian
"Dr. Greger has done it again! With so much confusion constantly surrounding diet and healthy food choices, Dr. Greger explains in 'How Not To Diet' that weight loss can equal satiation, not deprivation. He brings evidence-based science to us in such an easily digestible way. He gives us many little tips, to avoid making big mistakes, that make a huge difference. 'How not to Diet' is totally motivating and fun to read! I highly recommend everyone 'Put it to the test!'"
-Gianna Simone, actress and producer 
In health,
Michael Greger, M.D.
PS: If you haven't yet, you can subscribe to my free videos here and watch my live, year-in-review presentations: