Daily Dozen Challenge
Welcome to the Daily Dozen Challenge! The Daily Dozen Challenge was created to help more people discover how easy it is to fit some of the healthiest of healthy foods into their daily routine.
To keep you moving forward with your New Year Resolutions, we are relaunching the Daily Dozen Challenge so everyone can discover how easy it is to incorporate some of the healthiest foods into their daily meals! To start the relaunch, I'm publicly challenging five of my friends and YOU to try to check off all the Daily Dozen servings for one day based on my Daily Dozen checklist. Then you challenge more people, and on and on, and soon lots of people will be eating healthy!
My 2019 challengees are:
Jenné Claiborne, creator of the YouTube Channel, Sweet Potato Soul
Fitness enthusiast, Stefanie Moir of Naturally Stefanie
Health vlogger and YouTuber, Brett Cap
Diana Karenina of the YouTube Channel Vida Vegana. Check out her challenge video here.
Nicolás Zúñiga Cavagnola of the health blog, Fitness Vegano. Check out what he ate in his Daily Dozen challenge video here.
And all of YOU, of course!
See my video Dr. Greger's Daily Dozen Checklist for more information on what recommendations are part of the Daily Dozen. And check out a bunch of the videos people have done so far over on our YouTube playlist. 
---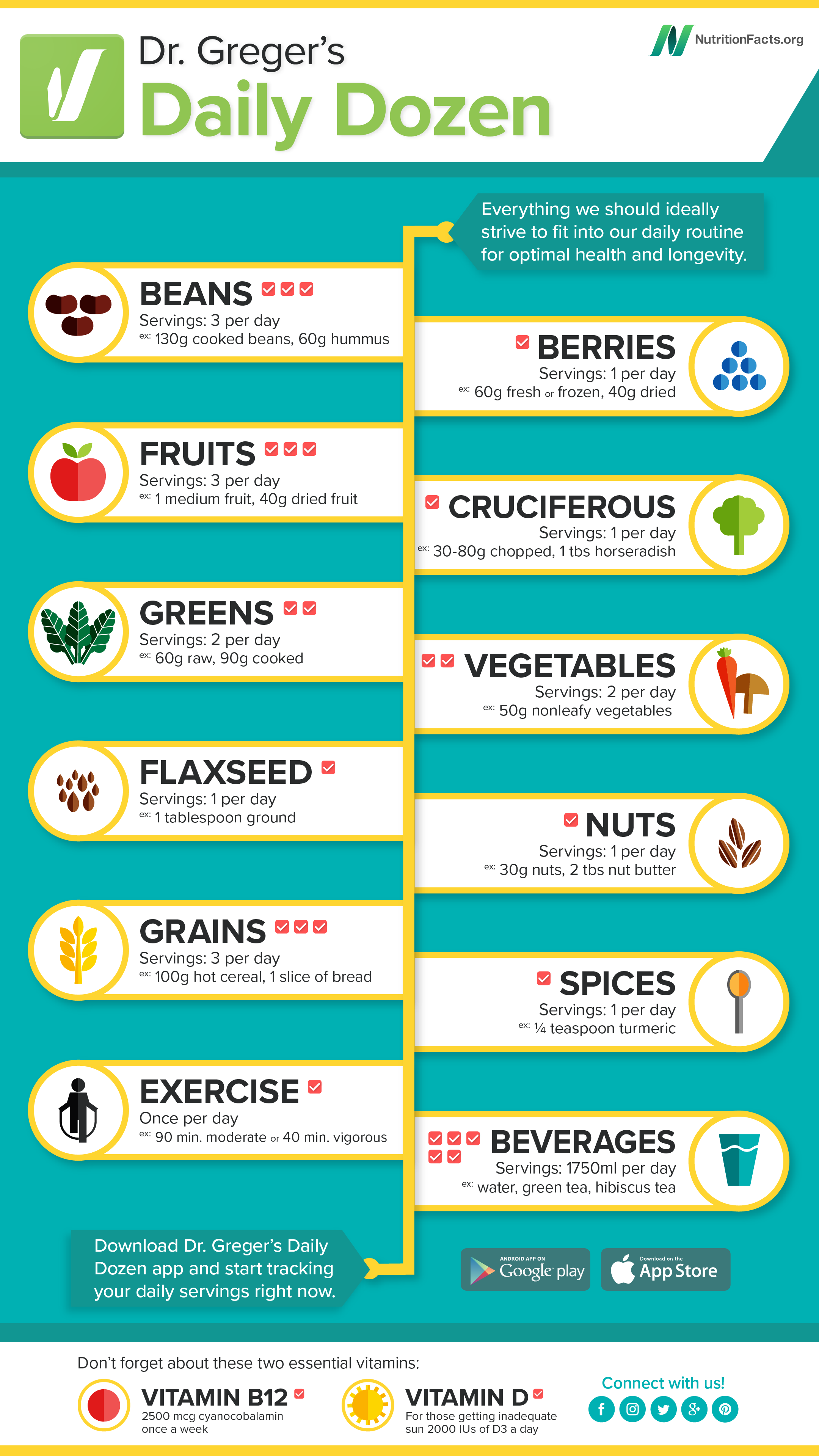 Download the Daily Dozen (Metric)    Download the Daily Dozen (Imperial)
---
And thank you so much to my original challengees!
How to Participate:
Accept the Challenge

Pick a day to eat the Daily Dozen, and then release your own public announcement asking others to do it.

Post a picture or video about your experience and tagging 3 more people to challenge them

Use the hashtags #HowNotToDie and #DailyDozenChallenge in your announcement post and ask others to do the same. Let people know they can track their Daily Dozen on our free iPhone and Android apps. You can challenge 3 people personally, or ask all of your friends!

Donate

If you or your "challengees" are unable to complete the Daily Dozen challenge you can ask them to consider donating $12 to help spread this life-changing life-saving info to others.
---
If you don't have it yet, my new cookbook has tons of green-light recipes to help reach the Daily Dozen (all of the proceeds from my books go to charity).
I hope you'll join in the evidence-based nutrition revolution!