How Not to Die
an instant New York Times Best Seller by Michael Greger, M.D. FACLM
From the physician behind the trusted website NutritionFacts.org, How Not to Die reveals the groundbreaking scientific evidence behind the only diet that can prevent and reverse many of the causes of premature death and disability.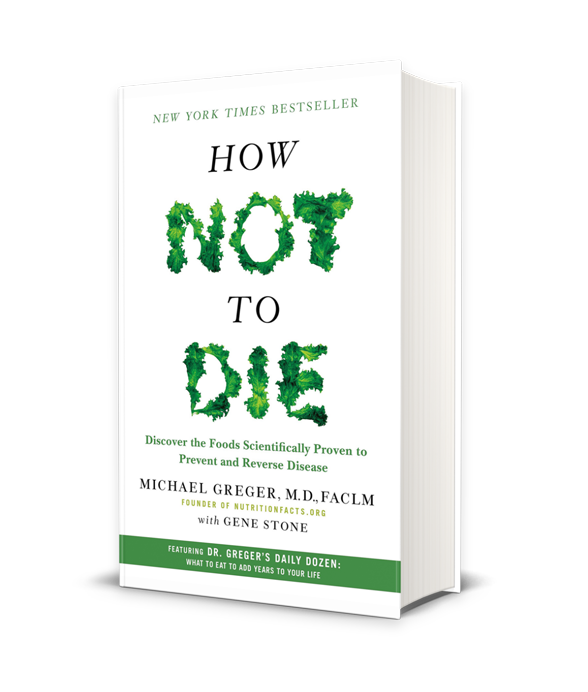 It's not How to Not Die, but How Not to Die—as in prematurely, in pain, and after a long, chronic, disabling illness. We have tremendous power over our health destiny and longevity. The vast majority of premature death and disability can be prevented through simple changes in diet and lifestyle, and, in How Not to Die, Dr. Michael Greger, the internationally-recognized lecturer, physician, and founder of NutritionFacts.org, examines the top 15 causes of death in America—heart disease, various cancers, diabetes, Parkinson's, high blood pressure, and more—and explains how nutritional and lifestyle interventions can sometimes trump prescribed pills, other pharmaceutical approaches, and even surgery, freeing us to live healthier lives.
Why Wait to Treat a Disease If You Can Prevent It?
Most doctors are good at treating acute illnesses, but bad at preventing chronic disease. The 15 leading causes of death claim the lives of 1.6 million Americans every year, but this needn't be the case. Dr. Greger methodically lays out the why's and how's of disease and, with his trademark humor, presents the indisputable, peer-reviewed, scientific evidence to support the best foods to eat (and to avoid) and which lifestyle changes to make to live longer and more healthfully.
History of prostate cancer in your family? Put down that glass of milk, and add ground flaxseed to your diet. Have high blood pressure? Hibiscus tea can work even better than a leading hypertensive drug—and without the pill's side effects. What about liver disease? Drinking coffee can reduce liver inflammation. Battling breast cancer? Consuming soy is associated with prolonged survival. Worried about heart disease, our number one killer? Switch to a whole food, plant-based diet, which has been scientifically shown again and again as a way of eating that not only helps to prevent the disease, but arrest and even reverse its progression.
Introducing the Daily Dozen
In How Not to Die, Dr. Greger gives us his Daily Dozen, a simple checklist of the foods we should try to consume every day to help maximize our health. Full of practical, actionable advice and surprising, cutting-edge nutritional science, these doctor's orders are just what we need to live longer, healthier lives.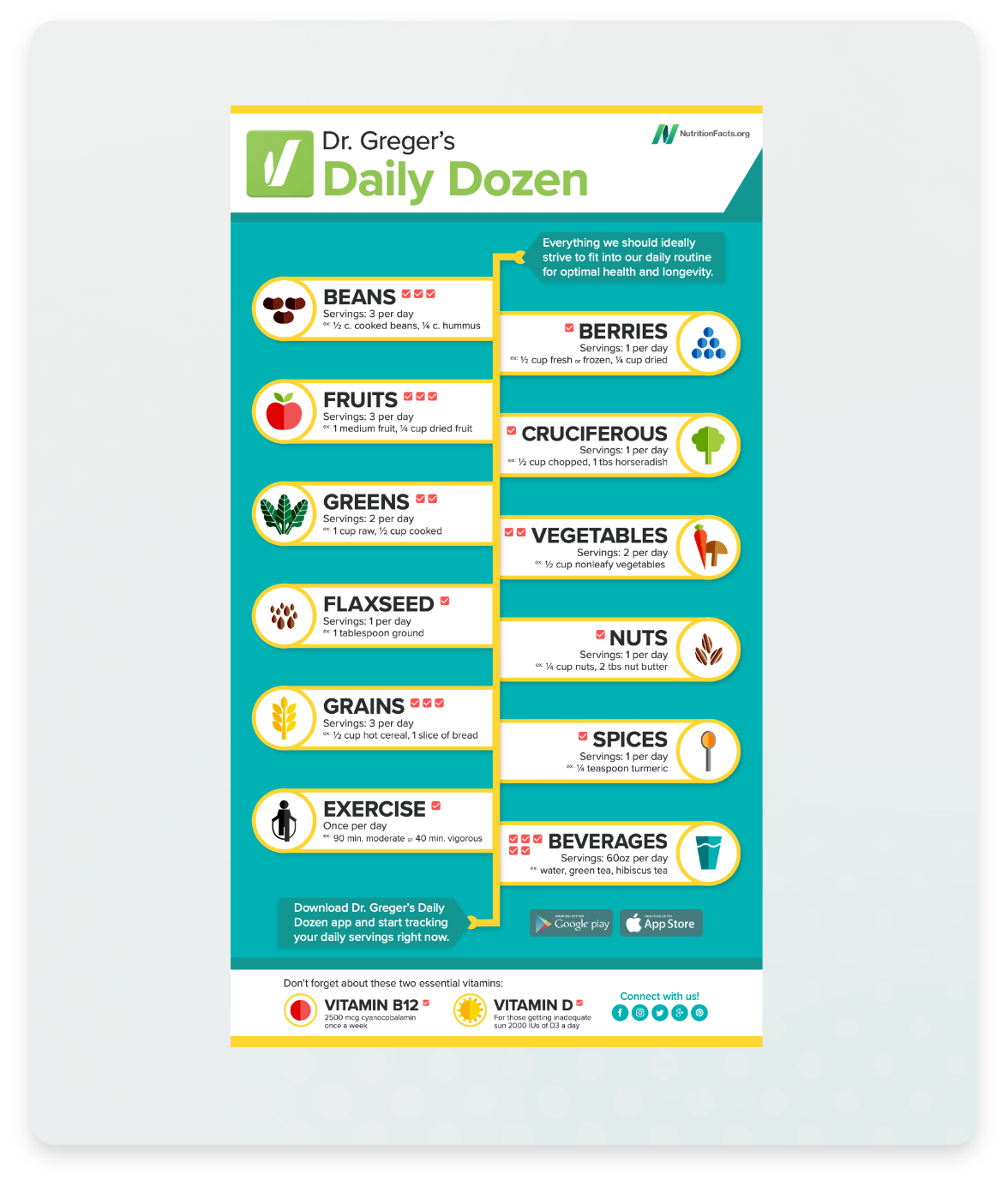 Daily Dozen Infographic
Download
See for Yourself
Dr. Greger donates 100 percent of the proceeds he receives from all of his books to charity.