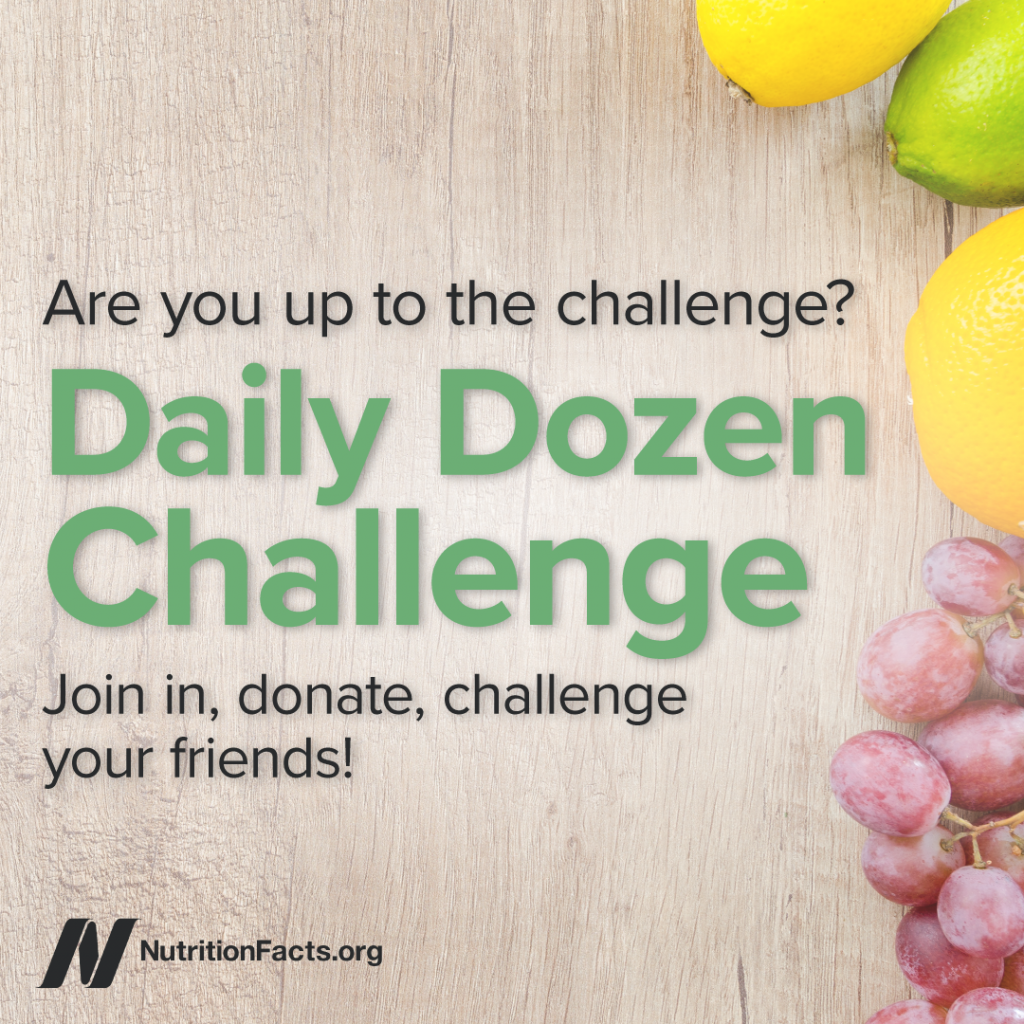 We've had a blast watching so many people take the Daily Dozen Challenge. Last month, I challenged a few of my friends—and all of you!—to pick a day and try to nail the Daily Dozen. See how they did:
And check out a bunch of the videos people have done so far over on our YouTube playlist. Join the hundreds of people taking the challenge and eating all of the healthiest foods I recommend based on years of research. To get in on the fun, download the free updated Dr. Greger's Daily Dozen app, and head to NutritionFacts.org/daily-dozen-challenge to learn more. 
New DVD covers chia seeds, coconut water, brewer's yeast, and more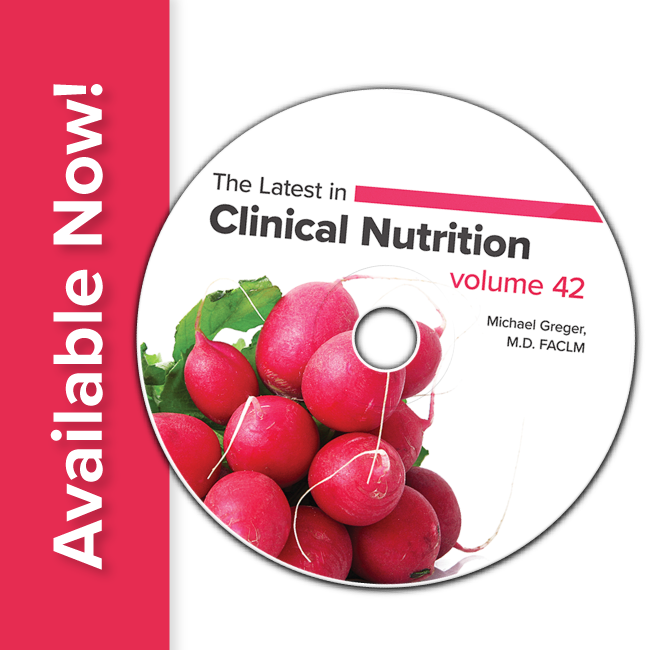 My new DVD is out today and is available as a streaming video so you can start watching it immediately. As you can see I've started at the beginning of the alphabet again in my research cycle, so acne, aloe, apples, beans, and berries are first up. If your favorite vegetable is zucchini I'm afraid it's going to be awhile, but I'll get there! All of these videos will eventually be available for free online over the next few months, but if you don't want to wait, you can watch them all streaming right now. 
Here's the full list of chapters from the new volume—a preview of what's to come over the next few months on NutritionFacts.org:
Do Sunflower Seeds Cause Acne?
Viagra and Cancer
Is Aloe Vera Gel the Best Treatment for Lichen Planus?
Will Big Cannabis Turn Into Big Tobacco?
Oxidized Cholesterol as a Cause of Alzheimer's Disease
How to Reduce Cholesterol Oxidation
Does an Apple a Day Really Keep the Doctor Away?
Foods to Improve Athletic Performance and Recovery
The Role of the Gut Microbiome in Autism
The Effects of Avocados on Inflammation
Benefits of Blueberries for Blood Pressure May Be Blocked by Yogurt
Benefits of Beans for Peripheral Vascular Disease
Benefits of Cabbage Leaves on the Knee for Osteoarthritis
Black Salve as an Alternative Cancer Cure
Marijuana Legalization and the Opioid Epidemic
How to Lower Heavy Metal Levels with Diet
The Effects of Cell Phones and Bluetooth on Nerve Function
Do Chia Seeds Help with Belly Fat?
Coconut Water and Depression
Carcinogens in Meat
Is Organic Meat Less Carcinogenic?
Is Monk Fruit Sweetener Safe?
Does Tea Tree Oil Work for Dandruff and Athlete's foot?
Does Tea Tree Oil Work for Nail Fungus?
Benefits of Brewer's Yeast for Diabetes
How to Win the War on Cancer
Order my new DVD as a video download/streaming at 
DrGreger.org/collections/downloads
. And remember, if you watch the videos on NutritionFacts.org or 
YouTube
, you can access captions in several different languages. To find yours, click on the settings wheel on the lower-right of the video and then "Subtitles/CC." 
If you were a regular supporter, you'd already be a monk fruit expert by now, having already received a link to the new digital download. New DVDs and downloads are released every nine weeks. If you'd like to automatically receive them before they're even available to the public, please consider becoming a monthly donor.
Anyone signing up on the donation page to become a $25 monthly contributor will receive the next three downloads for free, and anyone signing up as a $50 monthly contributor will get a whole year's worth of new DVDs (as physical DVDs, downloads, streaming, your choice). If you signed up for physical copies, your copy is already on it's way to you, if you do not have it by May 8 please email DVDhelp@NutritionFacts.org and we'll make everything all better.
Now Hiring!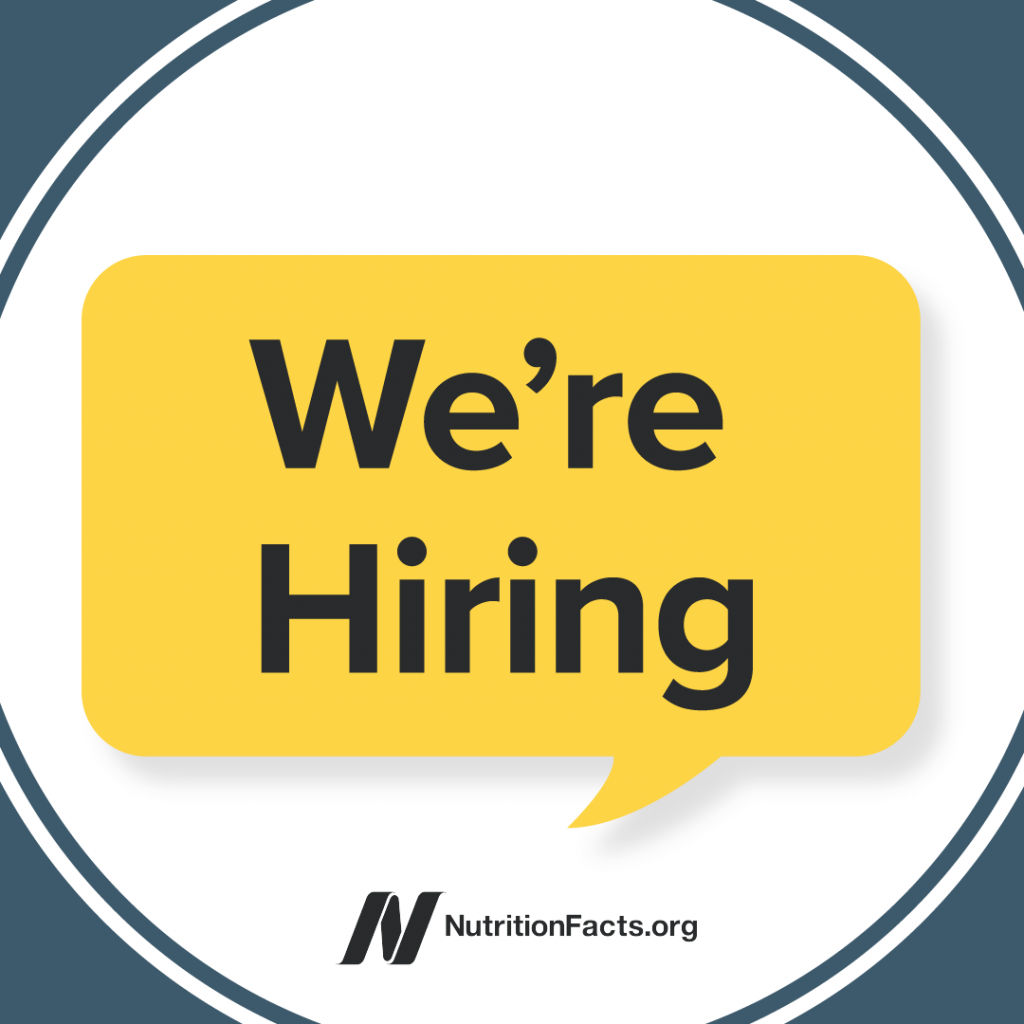 We're excited to be able to open up a new position at NutritionFacts.org. We're looking for an experienced part-time Digital Marketing Manager to enhance our global reach. 
Job description and application are here. 
 Live Q&A May 24th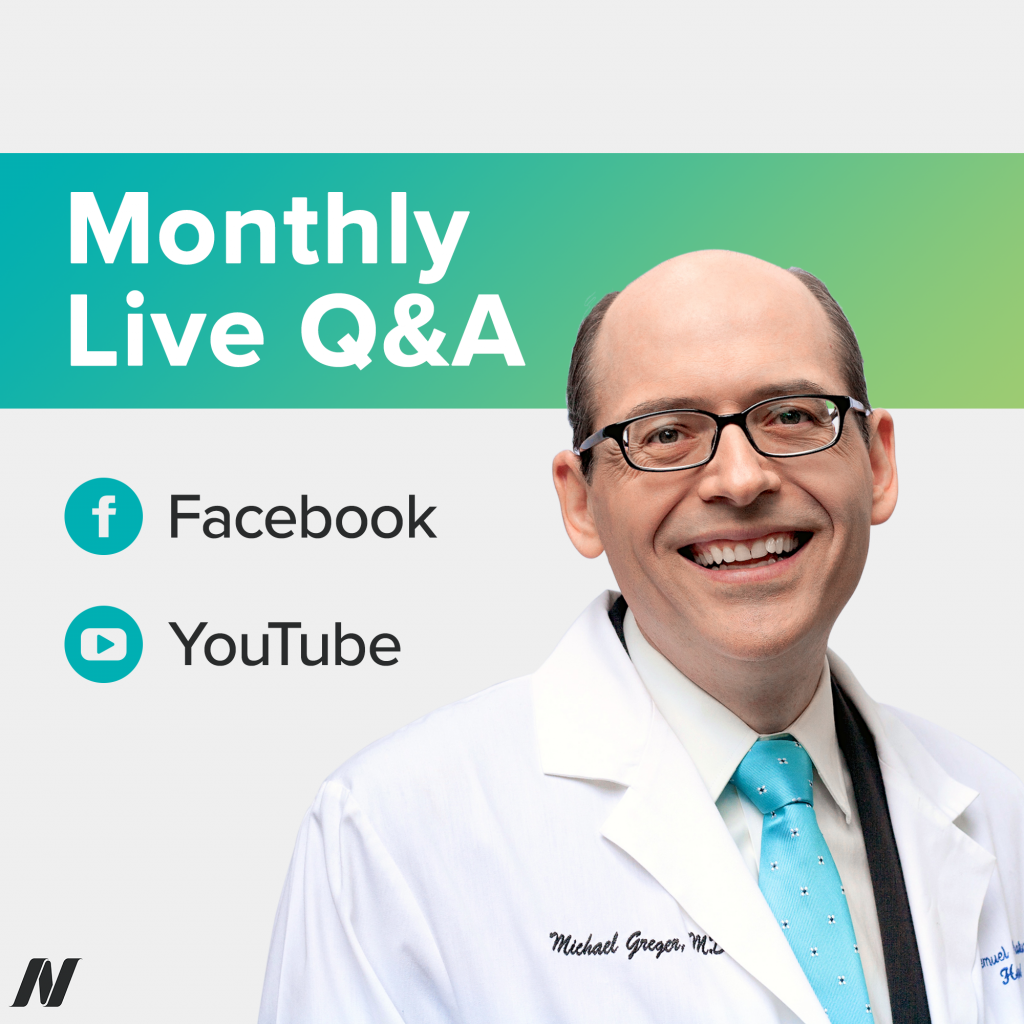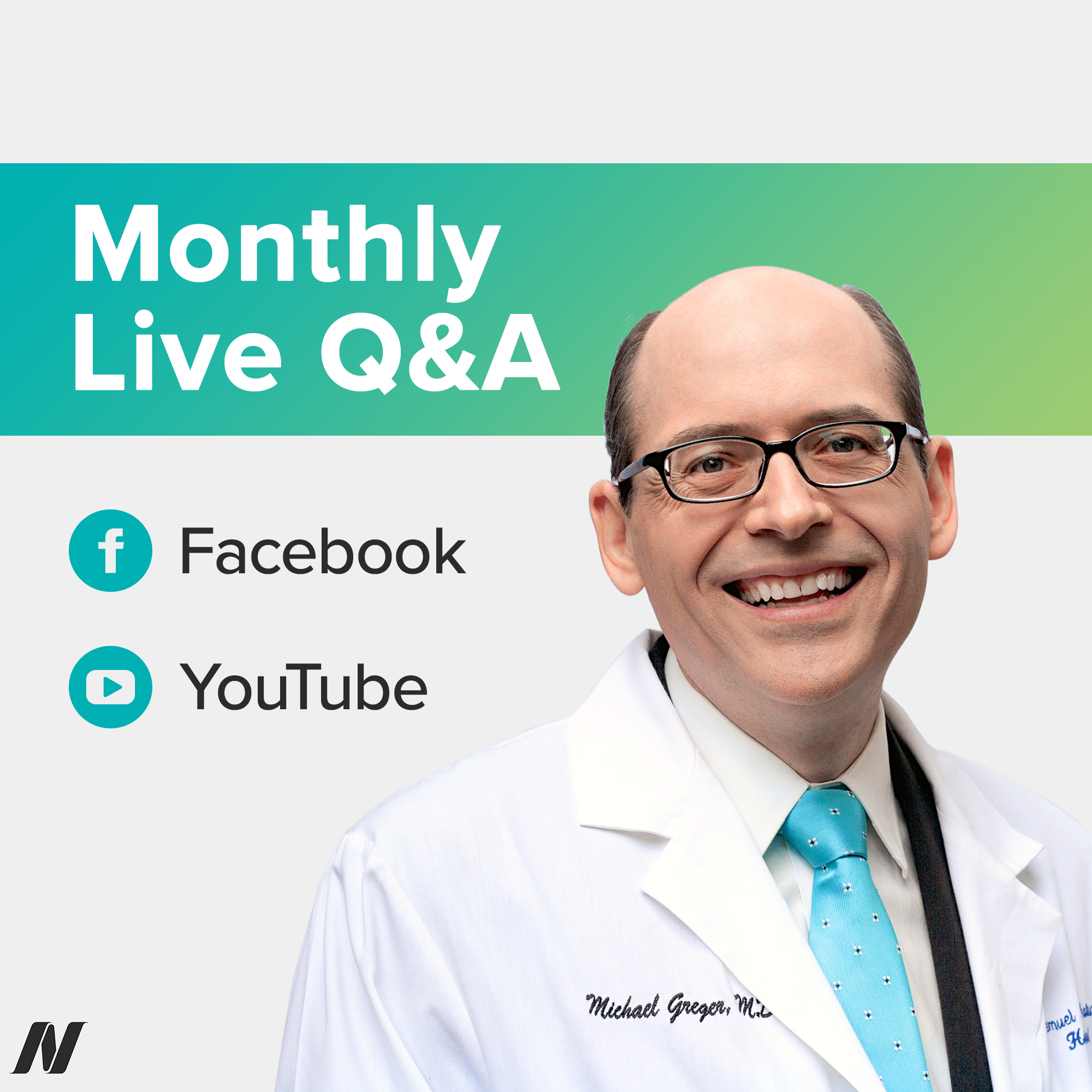 Every month now I do Q&As live from my treadmill, and May 24th is the day.
Facebook Live: At 12:00 p.m. ET go to our Facebook page to watch live and ask questions.
YouTube Live Stream: At 1:00 p.m. ET go here to watch live and ask even more questions! 
You can find links to all of my past YouTube and Facebook Q&As right here on NutritionFacts.org. If that's not enough, remember I have an audio podcast to keep you company at http://nutritionfacts.org/audio.
In health,
Michael Greger, M.D.
PS: If you haven't yet, you can subscribe to my free videos here and watch my live, year-in-review presentations: