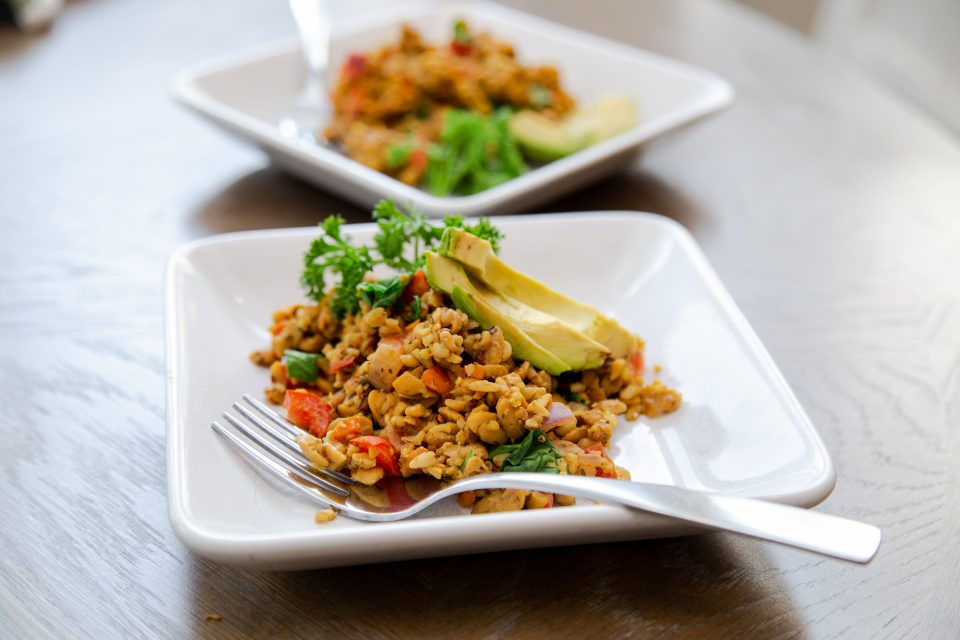 Garden Veggie Tempeh Scramble
This dish combines a variety of seasonings to add flavor to a traditional veggie scramble. The veggies in this recipe make for a beautiful rainbow display on your plate, and can be substituted for whatever you have on hand. Serve this at your next dinner party to show everyone how easy and tasty it is to get a hearty serving of veggies in a meal!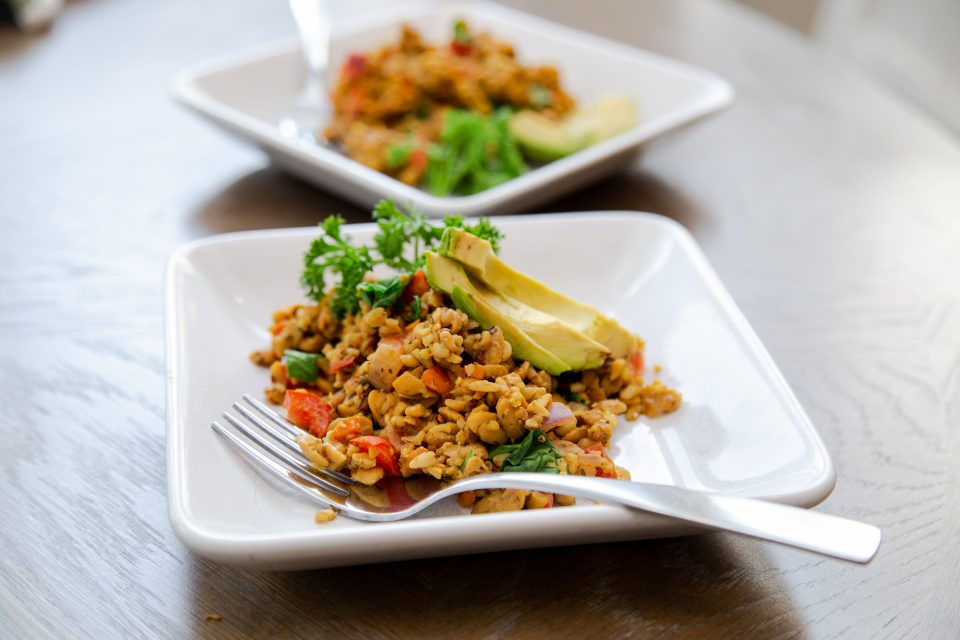 Ingredients
16

ounces

tempeh

6

tablespoons

nutritional yeast

½

teaspoon

crushed red pepper

1

teaspoon

minced garlic

½

teaspoon

ground turmeric

½

teaspoon

black pepper

½

teaspoon

paprika

½

teaspoon

ground cumin

2

teaspoons

dried oregano

2

teaspoons

white miso paste

1

tablespoon

lemon juice

4-6

tablespoons

water

½

cup

onion, diced

½

cup

bell pepper, any color, diced

½

cup

carrots, diced

½

cup

tomato, diced

1

cup

packed greens, chopped

2 avocados

cilantro, basil, or parsley, chopped (for garnish)
Instructions
Cut the tempeh into quarters and steam for about 5 minutes to remove some of the bitterness. Let the tempeh cool a bit before handling.

Mix the nutritional yeast, crushed red pepper, garlic, turmeric, black pepper, paprika, cumin and oregano in a small bowl and set aside.

Combine the miso, lemon juice, and 2 teaspoons of water in a small bowl and set aside.

Sauté the onion, pepper, and carrots in 2-3 tablespoons of water until softened.

Crumble tempeh with clean hands and add to the pan. Stir to combine.

Add the seasoning mix and stir until well combined. Cook on low heat for 3-4 minutes, stirring occasionally. Add 1-2 tablespoons of water at a time, as needed, to keep the seasonings from sticking to the pan.

Add the miso mixture and stir to combine. Finally, mix in the tomatoes and greens. Cook until the greens are softened.

Serve the dish topped with avocado, herbs, and a fresh squeeze of lemon juice.