Let's Get Cooking
The How Not to Die Cookbook is now ready for pre-order!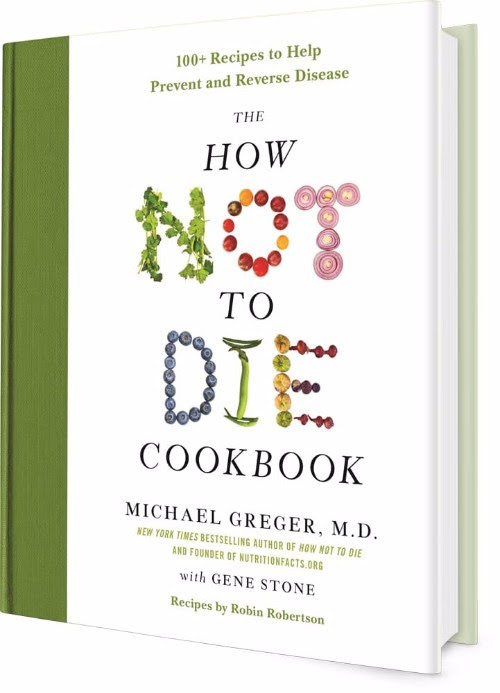 It is so beautifully designed it looks like it belongs more on your coffee table than on your kitchen counter, complete with more than 120 recipes for delicious meals, snacks, and beverages made with 100% green-light ingredients to help anyone eat their way to better health.
It ships the first week of December, but the more pre-orders that are locked in before then, the greater the chances it will rocket on to the New York Times Bestseller list like last time. So to encourage pre-orders, I'm offering free signed, personalized bookplates you can stick in the cookbooks for everyone on your holiday gift list. To receive your bookplates, go here: https://nutritionfacts.org/bookplates.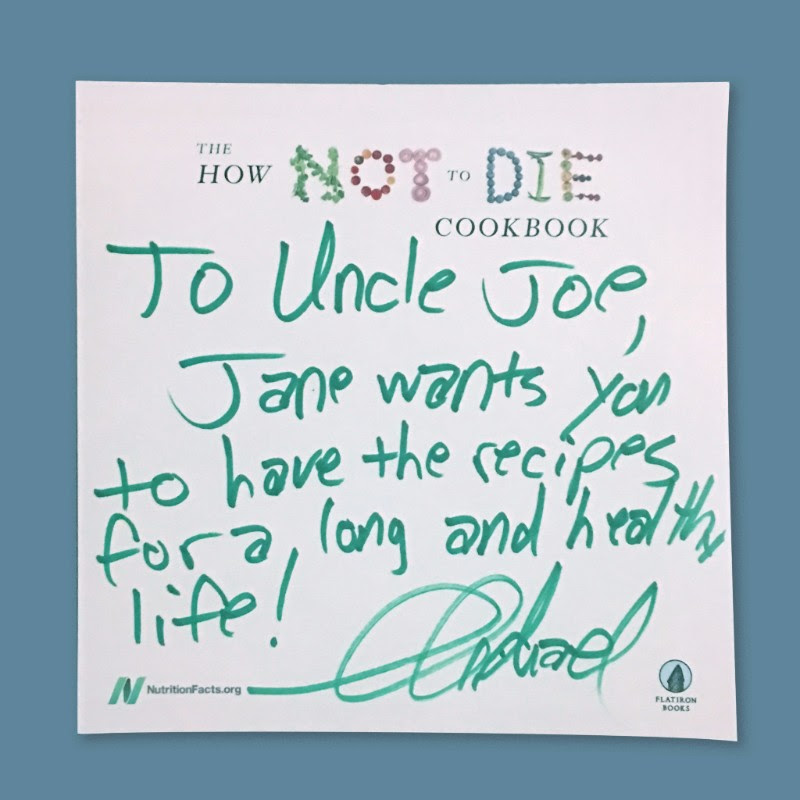 Note: this is limited to the first 2,000 pre-orders, and we have about 500 left at the time of this blog publishing. (Yeah, I know I eat an anti-inflammatory diet, but my writing hand can only handle so many! :)
New DVD covers fibroids, oil pulling, microwaves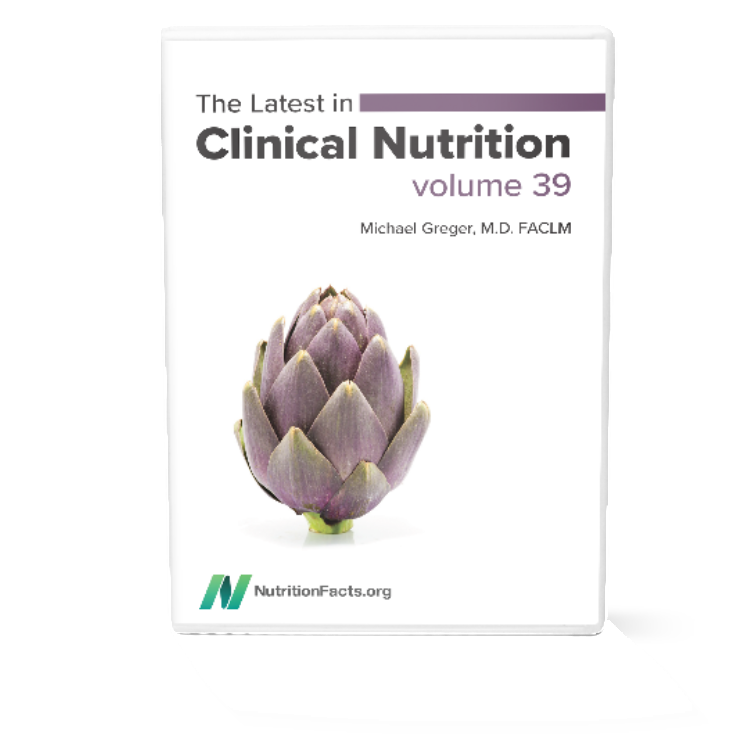 My new DVD is out today and is available as a streaming video so you can start watching it immediately. In this new volume, I cover eczema, canker sores, avocados, hot flashes and more. All of these videos will eventually be available for free online over the next few months, but if you don't want to wait, you can watch them all streaming right now. You can also order it as a physical DVD.
Here's the full list of chapters from the new volume—a preview of what's to come over the next few months on NutritionFacts.org:
Autism and Casein from Cow's Milk
Does A2 Milk Carry Less Autism Risk?
Gluten-Free, Casein-Free Diets for Autism Put to the Test
Are Autism Diet Benefits Just a Placebo Effect?
Double Blind Clinical Trial of Diet for Autism
Pros and Cons of Gluten-Free, Casein-Free Diets for Autism
Topical Honey for Canker Sores
Best Foods to Avoid for Eczema
Exclusion Diets for Eczema
Does Oil Pulling Help with Cancer?
Oil Pulling Benefits for Plaque and Gingivitis
Oil Pulling for Teeth Whitening and Bad Breath Tested
The Risks of Oil Pulling
Dr. Greger's Daily Dozen Checklist
Are Avocados Good for Your Cholesterol?
Avocados Lower Small Dense LDL Cholesterol
The Institute of Medicine Report on the Health Effects of Marijuana
Researching the Health Effects of Marijuana
Talcum Powder and Fibroids
The Rise in Blood Lead Levels at Pregnancy and Menopause
Should Pregnant Women Take Calcium Supplements to Lower Lead Levels?
Soy Phytoestrogens for Menopause Hot Flashes
How to Convert into an Equol Producer
Best Food to Counter Stress-Induced Immune Suppression
Are Microwaves Safe?
The Effects of Radiation Leaking from Microwave Ovens
Order my new DVD at DrGreger.org/collections/dvds, as a video download/streaming at DrGreger.org/collections/downloads, or through Amazon.
If you were a regular supporter, you'd already be a microwave oven expert by now, having already received a link to the new DVD. New DVDs are released every nine weeks. If you'd like to automatically receive them before they're even available to the public, please consider becoming a monthly donor.
Anyone signing up on the donation page to become a $25 monthly contributor will receive the next three downloads for free, and anyone signing up as a $50 monthly contributor will get a whole year's worth of new DVDs (as physical DVDs, downloads, streaming, your choice). If you signed up for physical copies, you should have already received this volume, but if not please email DVDhelp@NutritionFacts.org and we'll make everything all better.
Bringing NutritionFacts.org to a Global Audience

Don't forget to share our new Spanish-language site with those who may be interested! Folks can sign up here to receive Spanish-language updates.
We are also working to share our videos and content on the popular Chinese platforms Weibo, Miaopai, WeChat, and Youku. Please consider applying here if you are fluent and able to translate in (Simplified) Mandarin.
Live Q&A November 30th

Every month now I do Q&As live from my treadmill, and next month, Thursday, November 30th is the day.
Facebook Live: At 12:00 p.m. ET Thursday, November 30th, go to our Facebook page to watch live and ask questions.
YouTube Live Stream: At 1:00 p.m. ET Thursday, November 30th go here to watch live and ask even more questions! 
You can catch all of my past live YouTube Q&As here and Facebook Q&As here. If that's not enough, remember I have an audio podcast to keep you company at http://nutritionfacts.org/audio. 
In health,
Michael Greger, M.D.
PS: If you haven't yet, you can subscribe to my free videos here and watch my live, year-in-review presentations: