New DVD, New Organization & Last Chance to Register for Research Training
All the evidence in the world is worthless, unless it can be translated into action. I can research until I'm blue in the face (like the time I didn't screw the blender tight and my blueberry smoothie went WHOOSH), but if there aren't tools for people to put it into practice, lives will continue to be unnecessarily lost. It's not enough to just make the science available.
When I was a medical student I wished there was a resource like NutritionFacts.org. Commercialism has had such a corrupting influence on nutrition research it was hard to know what to believe. And who had the time to personally dig through the thousands of studies? There was desperate need for a science-based source to cut through all the confusion. And because it didn't exist, I knew I'd just have to create it myself, and the rest is history. I feel the same way about Balanced.
 
The second half of How Not to Die was one attempt to try to break down the research into actionable steps. I'm excited to announce that the free Dr. Greger's Daily Dozen iPhone app should soon be updated with all the same bells and whistles as the Android app. So that's another small tool. But we don't have the luxury of changing lives one individual at a time. People are dying now. We need institutional change. The hospitals need to change what they're serving, schools need to change what they're serving, restaurants need to change what they're serving. But there was no organization out there systematically affecting evidence-based nutrition on an institutional level… until now!
 
One of the most common questions I hear from supporters is some variation of
"OK, but what are you going to do about it?" I come out with some new video making a compelling case that large swaths of death and disability are preventable, or easily treatable, and they're like quick, we have to do something! Meanwhile, I'm at the medical library buried under a mountain of papers working on the next video. To pivot from research to outreach would require a whole new staff, a whole new mission. I realized it would need a whole new organization. And if it didn't exist, I knew we'd just have to help create it ourselves.
 
So I'm so proud to announce that NutritionFacts.org has been instrumental in launching Balanced, a new nonprofit organization, run by an amazing educator, Audrey Sanchez. They have my full support. Please check them out at Balanced.org, join their mailing list, follow them on Facebook, support them directly, and strap yourself in for the evidence-based nutrition revolution!
New DVD
My ne
w DVD came out today and is
available
as streaming video so you can start watching it immediately. In this new volume, I have videos on practical tips on treating conditions such as acne and toe fungus, to prostate cancer and infertility. The bulk of the videos focus on preventing and treating lead poisoning, a deep dive into the topic inspired by the tragedy in Flint Michigan.
The current batch of videos from the previous volume is about to run out on NutritionFacts.org. So, starting next month and running through July, I'll roll out this new set. They will all eventually be available for free online, but if you don't want to wait you can watch them all streaming right now.
Here's the full list of chapters from the new volume—a preview of what's to come over the next few months on NutritionFacts.org:
Best Supplements for Prostate Cancer 
How the Lead Paint Industry Got Away with It
Lead in Drinking Water
How the Leaded Gas Industry Got Away with It
"Normal" Blood Lead Levels Can Be Toxic
The Effects of Low-Level Lead Exposure in Adults
How to Lower Lead Levels with Diet: Thiamine, Fiber, Iron, Fat, Fasting?
How to Lower Lead Levels with Diet: Breakfast, Whole Grains, Milk, Tofu?
Best Foods for Lead Poisoning: Chlorella, Cilantro, Tomatoes, Moringa?
Best Food for Lead Poisoning: Garlic
Can Vitamin C Help with Lead Poisoning?
Yellow Bell Peppers for Male Infertility and Lead Poisoning?
The Role of Burger Viruses in Cancer
Microbiome: We Are What They Eat
Best Aromatherapy Herb for Alzheimer's
Natural Treatment for Acne and Fungal Infections
Controversy Over the Trans Fat Ban
Banning Trans Fat in Processed Foods but Not Animal Fat
Best Food for Antidepressant-induced Sexual Dysfunction
The Food Industry Wants the Public Confused about Nutrition
What Does a Low White Blood Cell Count Mean?
What Is the Ideal White Blood Cell Count?
The Best Supplement for Fibromyalgia
Fermented or Unfermented Soy Foods for Prostate Cancer Prevention?
The Role of Soy Foods in Prostate Cancer Prevention
How to Treat Heart Failure and Kidney Failure with Diet
DVD Subscription
If you were a regular supporter, you'd already know all this, having already received a link to the new DVD. New DVDs are released every nine weeks. If you'd like to automatically receive them before they're even available to the public, please consider becoming a monthly donor.
Anyone signing up on the donation page to become a $25 monthly contributor will receive the next three downloads for free, and anyone signing up as a $50 monthly contributor will get a whole year's worth of new DVDs (as physical DVDs, downloads, streaming, your choice). If you signed up for physical copies, you should have already received this volume, but if not please email DVDhelp@NutritionFacts.org and we'll make everything all better.
Cruciferocious!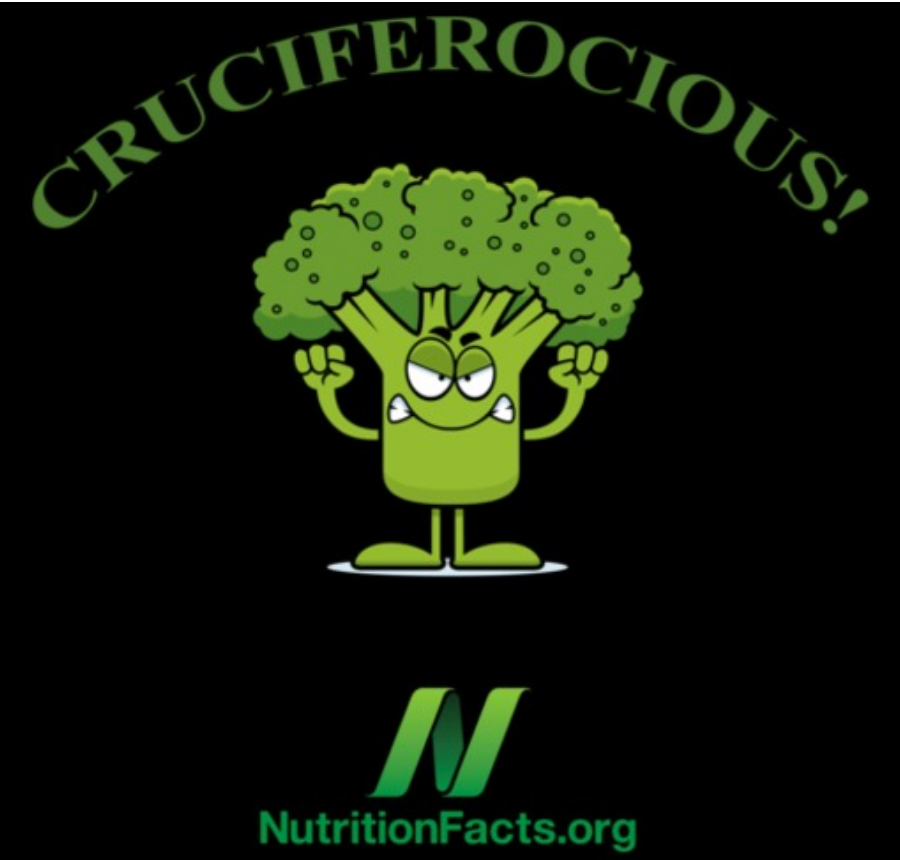 It's been so great to see all the NutritionFacts.org t-shirts and hoodies in the audience at my talks. We didn't have aprons and water bottles and new designs, though… until now! As a fundraiser, for a limited time only, check out all the new swag at: https://www.booster.com/nutritionfactscollection from now until May 11.
Live Q&A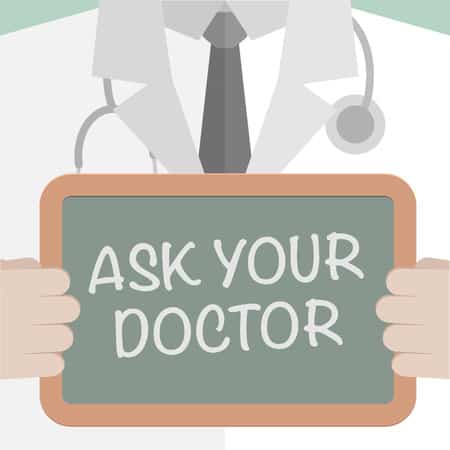 Every month now I'm doing Q&As live from my treadmill, and Saturday, May 27th, is the day.
Facebook Live: At 2pm ET Saturday, May 27th go to our Facebook page to watch live and ask questions.
YouTube Live Stream: At 3pm ET Saturday, May 27th go here to watch live and ask even more questions! 
I also have an audio podcast to keep you company at https://nutritionfacts.org/audio.
In health,
Michael Greger, M.D.
PS: If you haven't yet, you can subscribe to my free videos here and watch my live, year-in-review presentations: