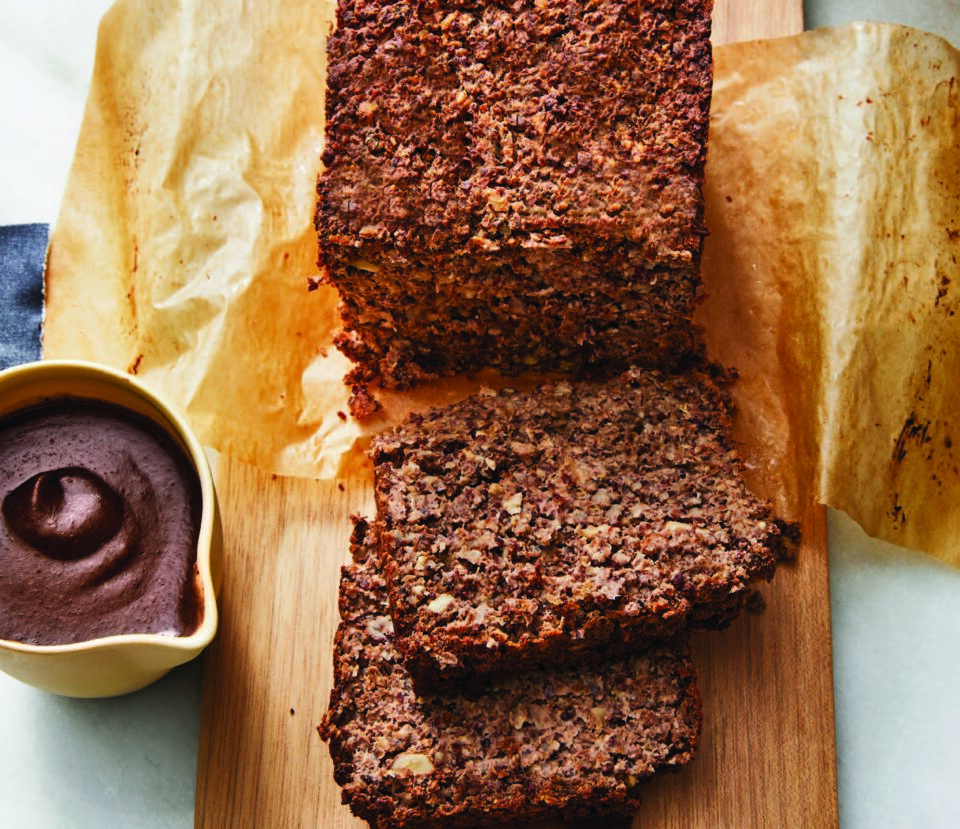 Baked Grain Loaf with Umami Gravy
This hearty loaf calls for small amounts of different cooked whole grains. I like to mix up the variety from time to time to use up leftovers or take advantage of what I have in my pantry. If I'm in a hurry and don't have leftovers or a lot of time to cook, I just substitute cooked Basic BROL for the grains and lentils, since that's a staple I nearly always have on hand. Because the oven will be used for this dish, consider roasting some veggies to serve on the side.
Ingredients
Loaf
½

cup

chopped red onion

1

garlic clove, smashed

½

cup

walnut pieces

1

cup

cooked red quinoa

1½

cups

cooked brown lentils

2

tablespoons

tahini

3

tablespoons

nutritional yeast

2

tablespoons

ground flaxseeds

1

tablespoons

minced fresh parsley

1

tablespoons

white miso paste

1

teaspoon

smoked paprika

½

teaspoon

dried thyme

½

teaspoon

dried sage

¼

teaspoon

ground black pepper
Umami Gravy
1

cup

Light Vegetable Broth

1

cup

chopped shallots

2

garlic cloves, minced

1

cup

chopped cremini mushrooms

2

tablespoons

Umami Sauce Redux

2

tablespoons

nutritional yeast

1

tablespoon

white miso paste

1

tablespoon

salt-free tomato paste

1

teaspoon

balsamic vinegar
Instructions
For the loaf
Preheat the oven to 350°F. Line an 8- x 4-inch loaf pan with a piece of parchment paper the same length of the loaf pan and long enough to come up and over the sides by a few inches.

Combine the onion, garlic, and walnuts in a food processor and pulse until finely minced. Add all the remaining loaf ingredients and process until well combined. If the mixture is too wet to hold together, add more nutritional yeast or ground walnuts and combine well.

Transfer the loaf mixture into the prepared pan. Press the mixture firmly into the pan and smooth out the top. Bake until firm and golden brown, 50 to 60 minutes. Check its progress at around 40 minutes and if the top is getting too brown, cover with foil for the remaining baking time.
For the Umami Gravy
While the loaf is baking. make the gravy. In a saucepan, combine the Light Vegetable Broth, shallots, garlic, and mushrooms and bring to a boil. Lower the heat to a simmer, stir in the remaining gravy ingredients, cover, and simmer for 5 minutes. Transfer the mixture to a blender or food processor and blend until smooth. Return the gravy to the saucepan and taste and adjust the seasonings, if needed. Keep warm over low heat, stirring occasionally.