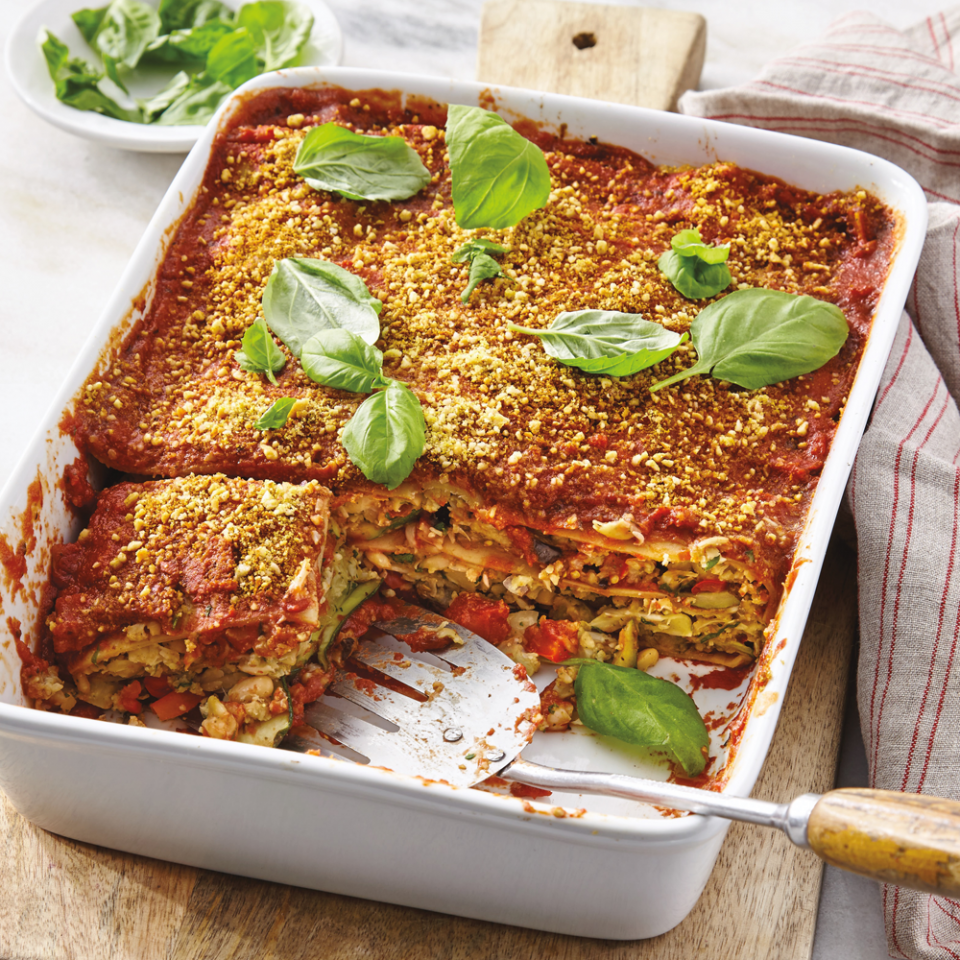 Roasted Vegetable Lasagna
One of the wonderful things about lasagna is being able to truly make it your own. Not crazy about eggplant? Use sliced portobello mushrooms instead (as I do). Want to bulk it up? Add some crumbled steamed tempeh to the tomato sauce. And, as always, consider adding chopped greens to this—and everything else!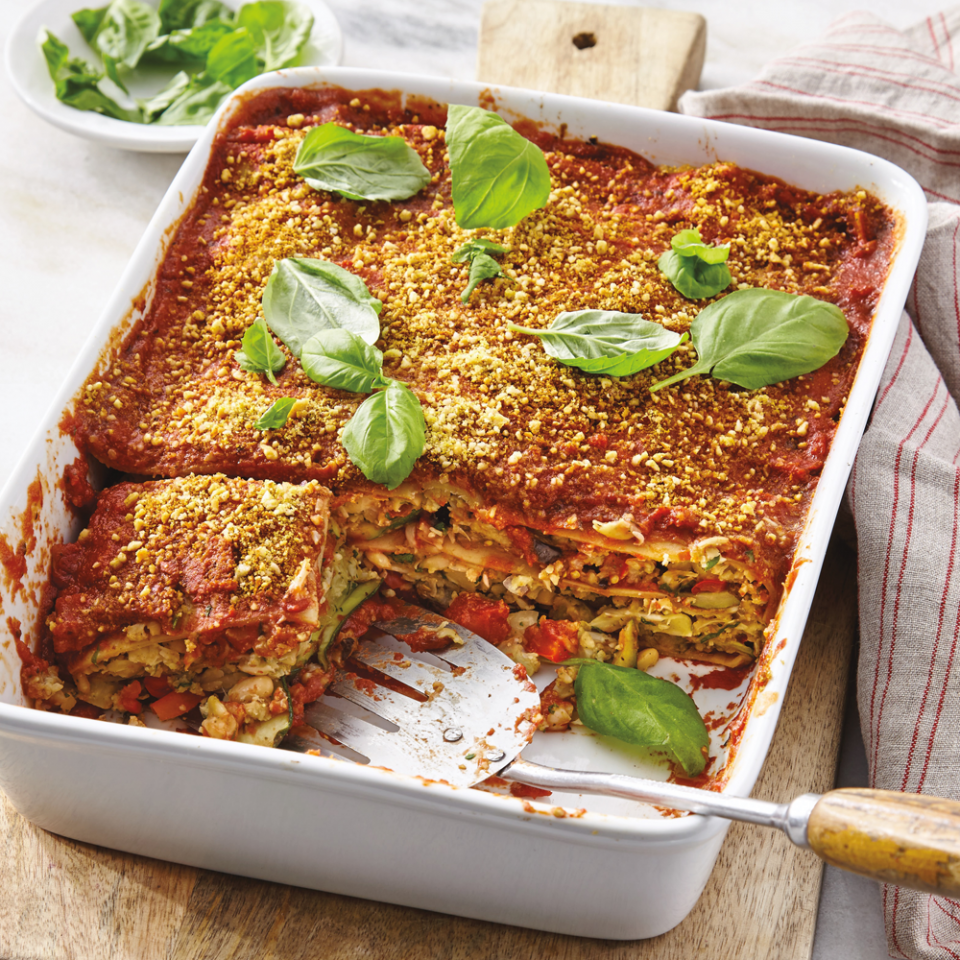 Ingredients
1

head

cauliflower

cut vertically into 1/4-inch slices

1

zucchini

cut into 1/8-inch slices

1

eggplant

cut into 1/8-inch slices

1

red bell pepper

seeded and chopped

12

100% whole-grain lasagna noodles

1 ½

cups

cooked or 1 15.5-ounce BPA-free can or Tetra Pak cannellini beans

drained, rinsed, and mashed

¼

cup

nutritional yeast

¼

cup

minced fresh parsley

½

cup

Almond Milk

1

teaspoon

lemon juice

1

teaspoon

white miso paste

1

teaspoon

dried oregano

1

teaspoon

dried basil

1

teaspoon

garlic powder

1

teaspoon

onion powder

¼

teaspoon

red pepper flakes

(to taste)

¼

teaspoon

ground black pepper

3

cups

jarred or homemade marinara sauce

¼

cup

Nutty Parm
Instructions
Preheat the oven to 425ºF. Line two large baking sheets with silicone mats or parchment paper. Arrange the cauliflower on one of the prepared baking sheets and the zucchini and eggplant on the other. Sprinkle the chopped bell pepper over the zucchini and eggplant. Place both pans of vegetables in the oven and roast until the veggies are tender, about

20 minutes

, turning once about halfway through.

While the vegetables are roasting, cook the lasagna noodles according to the package directions. Drain and set aside.

Remove the roasted vegetables from the oven and set aside to cool. Lower the oven temperature to 350ºF.

Transfer the roasted cauliflower to a food processor and pulse until it is finely chopped. Place the cauliflower in a large bowl and add the remaining ingredients, except the marinara sauce and Nutty Parm. Mix well.

To assemble, spread a layer of marinara sauce on the bottom of a 9 × 13-inch baking dish. Top the sauce with a layer of noodles. Cover the noodles with half of the roasted vegetables, topped with half of the cauliflower mixture. Add another layer of noodles, topped with more sauce. Once again cover the noodles with roasted vegetables, and then the cauliflower mixture. Repeat this layering process, ending with a layer of noodles topped with sauce. Sprinkle Nutty Parm on top. Cover and

bake for 30 to 40 minutes

, or until hot and bubbling. Remove from the oven and let stand for

10 minutes

before cutting and serving.