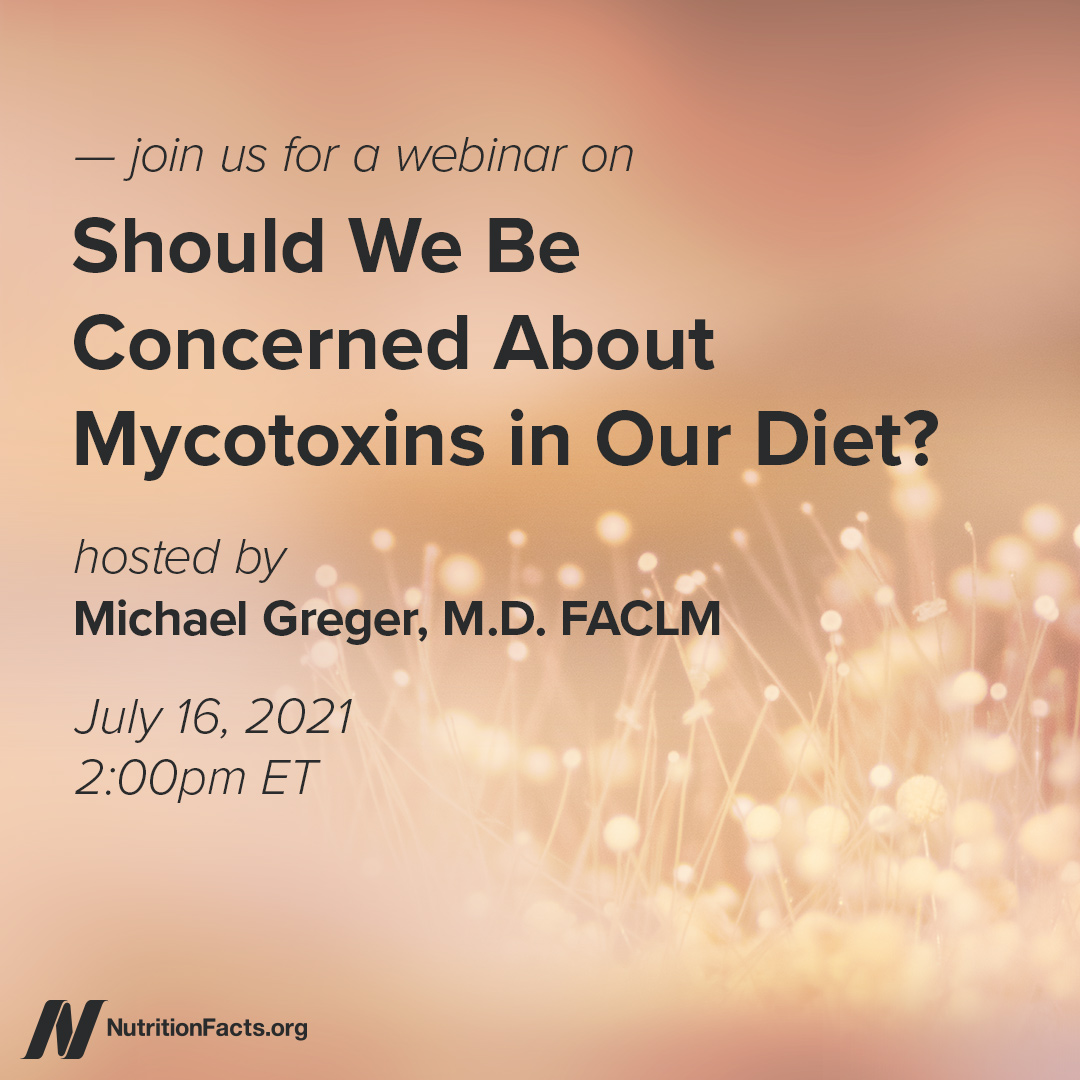 Program Information
Date: July 16th, 2021 2:00 pm EDT
Duration:
Mycotoxins—fungal toxins found in moldy food—are one of the few dietary contaminants suspected to have a higher presence in plant-based diets, though in some population studies 100% of blood samples turn up positive. Are there some foods we should try to avoid to decrease our exposure, such as oat-based breakfast cereals for ochratoxin or dried figs for aflatoxin? Dr. Greger took a deep dive into everything you ever wanted to know about mycotoxins but were afraid to ask in this 1-hour webinar and live Q&A.
All of the information will eventually be available for free on NutritionFacts.org, but if you don't want to wait, you can hear it all now by joining me in this live webinar to get all your questions answered.
Testimonials
All of the content was extremely useful. Dr. G is the best teacher, even via the web, I have ever listened to. Clear, engaging, personable, passionate, patient and very interesting.
It is a very cool feeling that there are over 500 people around the globe, who are interested in nutrition and want to know even more. So keep up the good work.
Dr. Greger did a fantastic job bringing his genius knowledge down to my level. I learned so much on all the ways to research effectively, thoroughly and truthfully. He was fantastic! He went over aspects enough times for me to get what he was talking about. So he didn't go too fast. He went just at the right pace. He did it with humor and fascination on a subject that can be tedious, he made it an adventure. I really appreciate all the work and planning that went into the four hours! Can't wait for him to do it again on another subject!
This course is worth so much money and a huge value to those particularly in university and research. Thank you so much for your time and efforts!
Dr. Greger is a rare treasure and his educational style is engaging. Thank you all!