My new book How Not to Diet is now available for pre-order! 
It's hard to express how excited I am that it's finally coming out. It's the biggest single research project I've ever taken on. There are more than a half million papers published in the medical literature on obesity with 100 new ones every day. It's no wonder no one has yet pulled together all the best science…until now!
In Part 1, I explain the cause of the obesity epidemic. What exactly happened in the late 1970's that triggered the global crisis? In Part 2, I construct the ideal weight loss diet from the ground up, identifying 17 different ingredients for optimal weight control with a chapter on each. Then, in Part 3, I go through specific foods proven in randomized, controlled trials to enhance weight loss by acting as everything from fat blockers and burners to appetite suppressants and metabolic boosters. And it's not just what you eat, but how and when. In the last twenty chapters, I dive into optimal meal and exercise timing and frequency, habit formation, negative calorie preloading, and more—all immortalized in my Twenty-One Tweaks to accelerate weight loss that will complement my Daily Dozen. 
Why Pre-Order?
The book comes out on December 10, 2019, in time for the holidays and the burst of New Year resolutions. We're hoping to get on all the major media outlets so we can spread the idea of evidence-based nutrition far and wide, but that depends in part on whether I can get on the New York Times Best Seller List. The list is decided based on the number of sales we get in the first week—including all of the pre-order sales. Thanks to so many of you, when How Not to Die launched, there were already tens of thousands of orders queued up, so it debuted as an instant New York Times Best Seller starting out at #6 on the list. Ready to help me shoot for #1? Pre-order it now at https://nutritionfacts.org/how-not-to-diet.
I don't receive a penny from the book. It's right in my contract that all the money I would normally receive from the advance and sales and royalties instead goes to charity. But the faster the book sells, the more opportunity I may have to broadcast this message of dietary sanity to the world. Wouldn't it be amazing if I could get on some of the big morning shows? With your help, we can reach many more millions. So please pre-order a copy for yourself, and however many copies you think you may be able to gift to friends and family to get them on the right track for the new year (and the rest of their long, healthy life!). And if you're active on social media, help me get the word out by directing folks to the pre-order page. I'll be using the hashtag #HowNotToDiet.
And Don't Forget Your Signed Bookplates!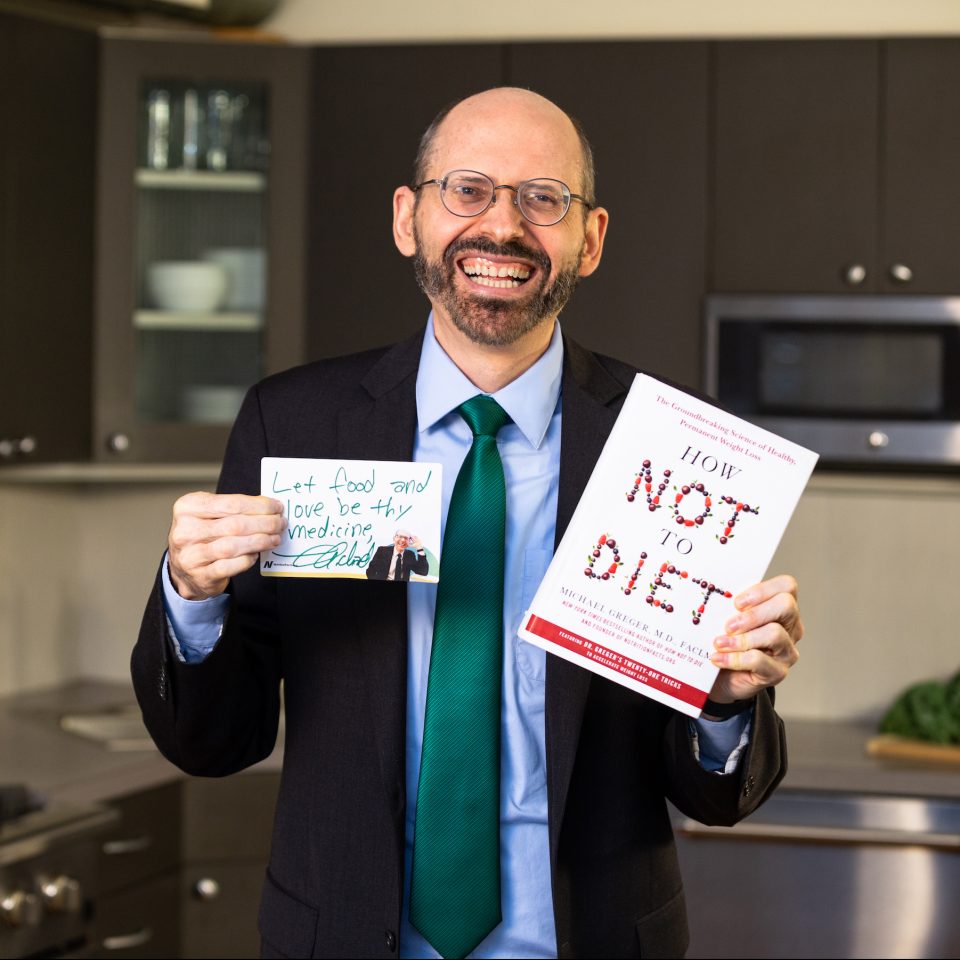 By pre-ordering the book now, not only will you help launch How Not to Diet onto the New York Times Best Seller list, but you'll also be able to get a bookplate signed by me to insert in the book. Just make a donation of any amount with this form, and we'll send you a signed bookplate in appreciation. It makes a great gift or a keepsake for yourself. Your tax-deductible donation helps keep NutritionFacts.org going and growing. There's only 3,000 bookplates available, so don't delay!
I end the Preface with these words:
"This has been a mammoth but joyful undertaking. People sometimes ask me why I don't go on vacations or even ever take a day off. I have to explain that I feel as though my entire life is a holiday. I feel so blessed to be able to dedicate my time to helping people while doing what I love, learning and sharing. I can't imagine doing anything else."
New Webinar: Fasting for Disease Reversal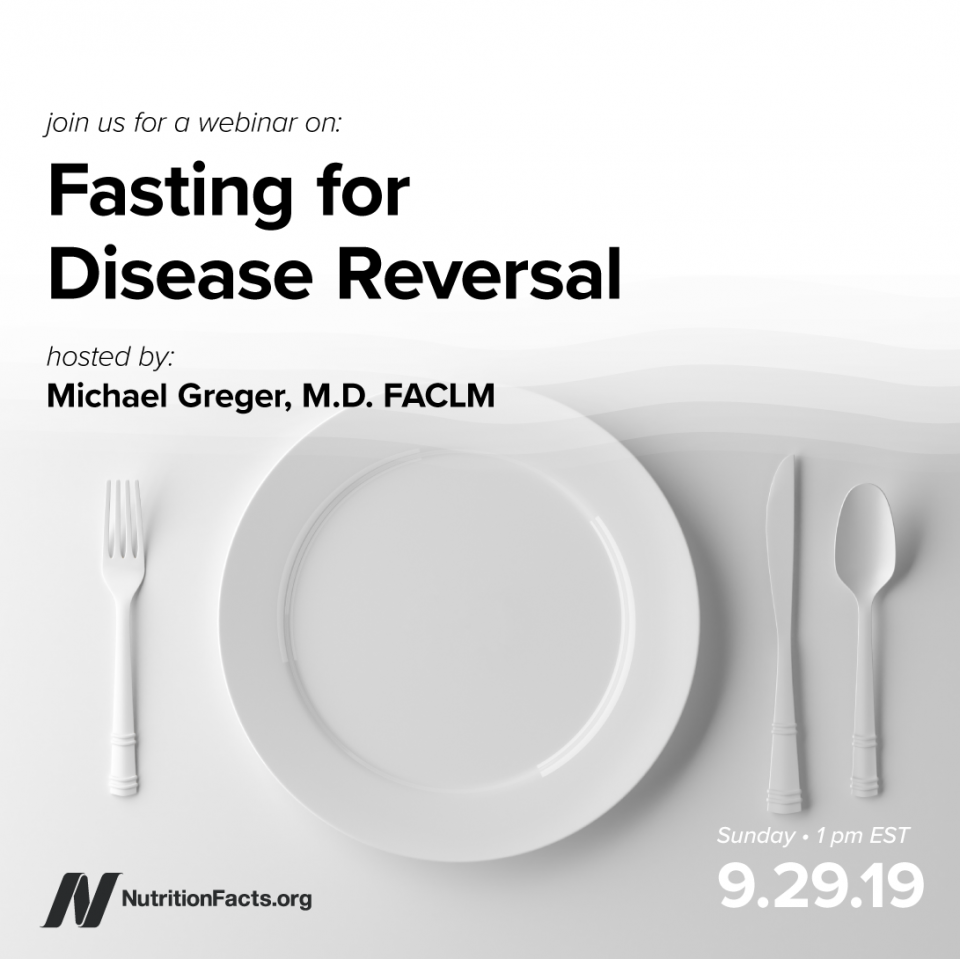 Last month, thousands of people joined me for my first webinar on fasting, something I knew next to nothing about… until I did this deep dive into the medical literature. By my count, there are 1,527 articles on fasting in English-language peer-reviewed scientific journals, and I read every single one of them so you… don't have to!
I've compiled all the best science into 41 videos which I will drip out on NutritionFacts.org over the next few years, but for those who don't want to wait, we have a series of webinars so I can share the information all at once and answer questions throughout.
Last month I had a blast covering all the latest and greatest research on intermittent fasting and time-restricted eating. You can stream all the videos I covered here. I also covered the safety and efficacy of water-only fasting for weight loss, but what about the use of fasting for the reversal of disease? That's the focus of my next fasting webinar, where I will spend three hours covering fasting for blood pressure, diabetes, depression, autoimmune diseases, and more. To get the full list of topics and titles, visit the webinar page.
Webinar Date & Time: September 29th at 1pm ET
Registration Closes: Midnight on September 22nd
There was so much research regarding fasting and cancer, that we made its own separate webinar as the third and final installation of the webinar series. This 3-hour webinar will be October 25th (on my birthday!) and focus on fasting for cancer reversal and during chemotherapy. Make sure to mark your calendars now—registration will begin in September.
UPDATE: Thanks to everyone who attended the webinar. If you missed it, the digital download is available here: https://drgreger.org/collections/downloads. 
Seeking Spanish Volunteers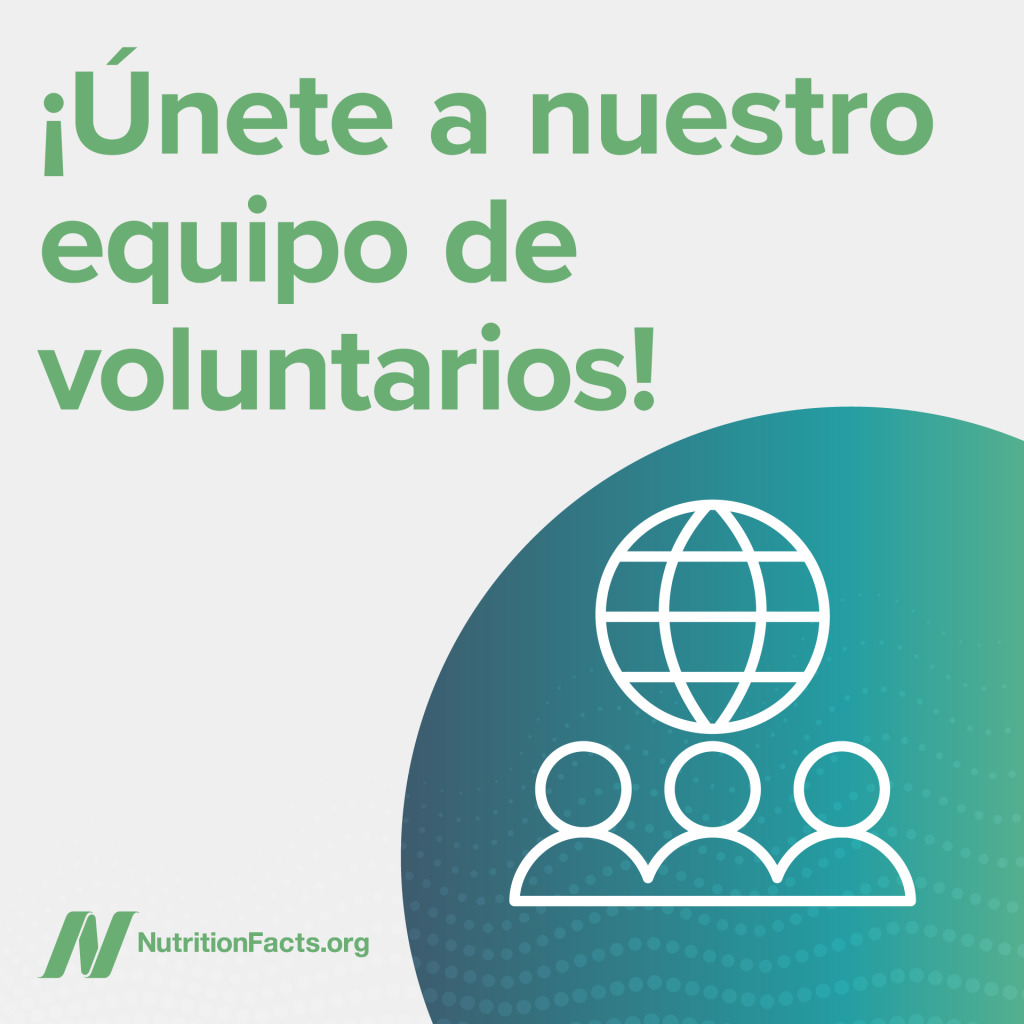 Our Spanish team is looking for a few experienced translators to work on translating and editing transcripts, blog posts, and video subtitles. Applicants should be proficient in both Spanish and English, with previous translation experience and a basic understanding of NutritionFacts.org content and medical terms. To apply, go to 
https://nutritionfacts.org/volunteer
.   
Eating Guide Survey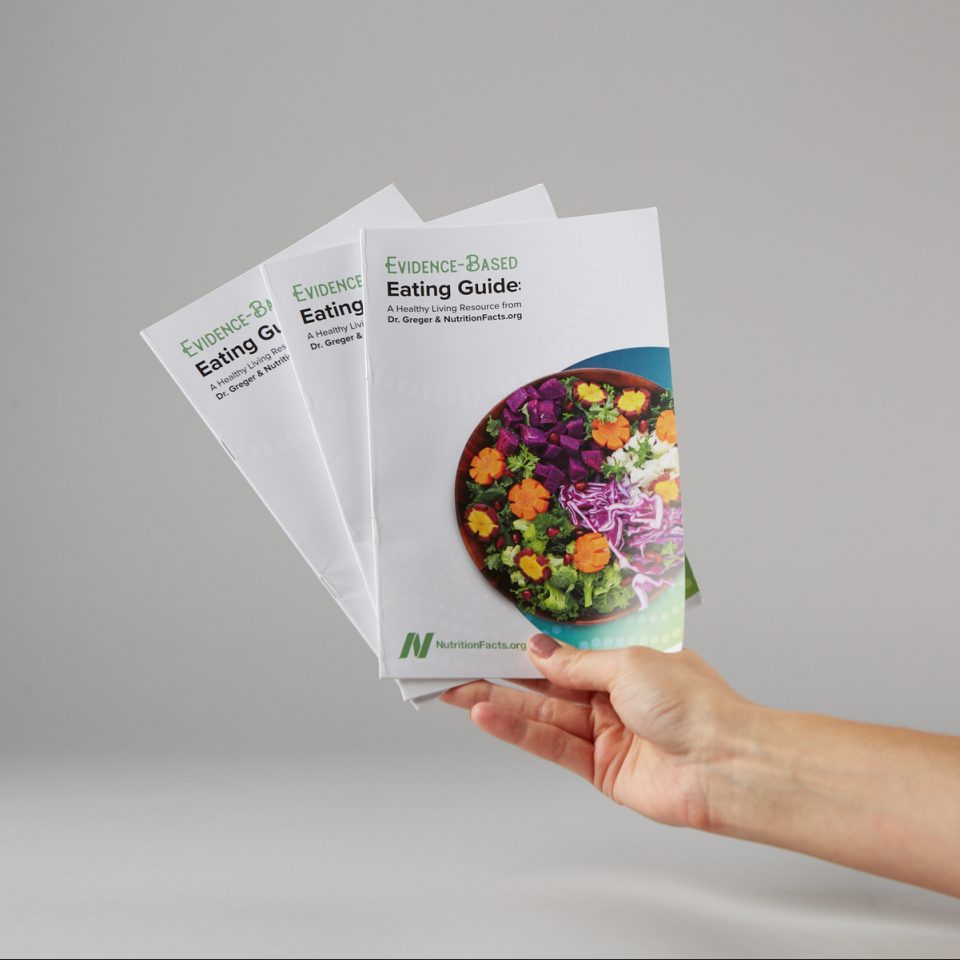 Have you used our Evidence-Based Eating Guide? If so, please consider taking two minutes to complete our brief survey to help guide the future direction of our health resources.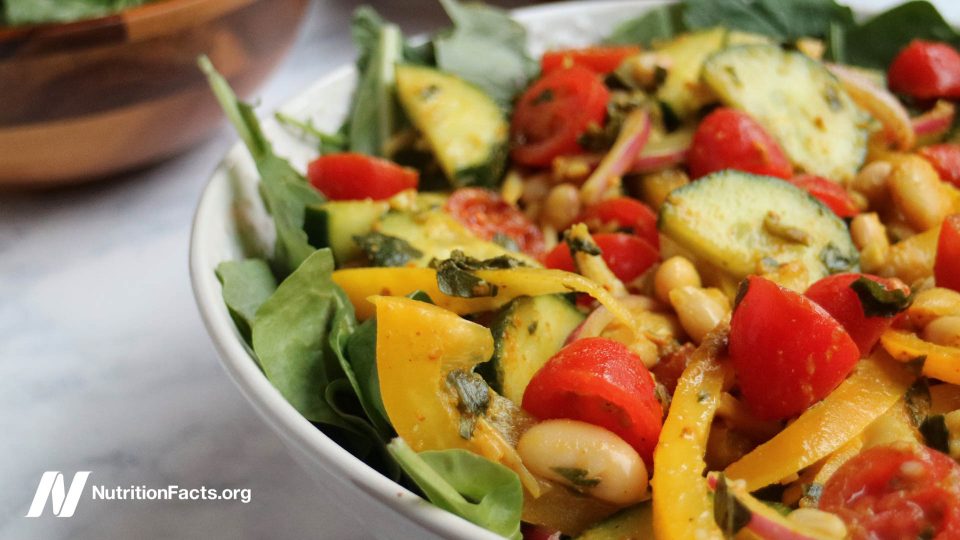 Plant-Based Diets Recognized by Diabetes Associations
Plant-based diets as the single most important, yet underutilized, opportunity to reverse the pending obesity and diabetes-induced epidemic of disease and death.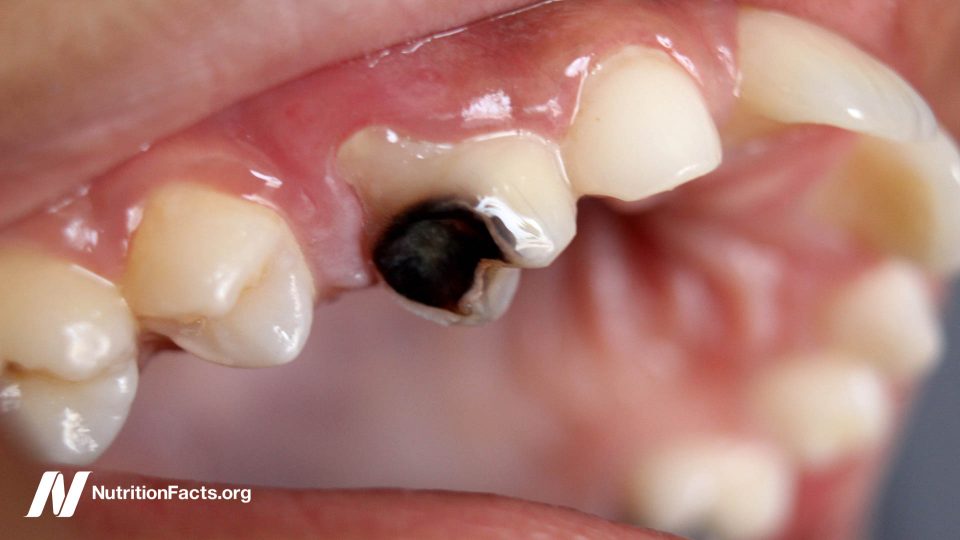 How to Stop Tooth Decay
If sugar consumption is considered the one and only cause of cavities, how much is too much?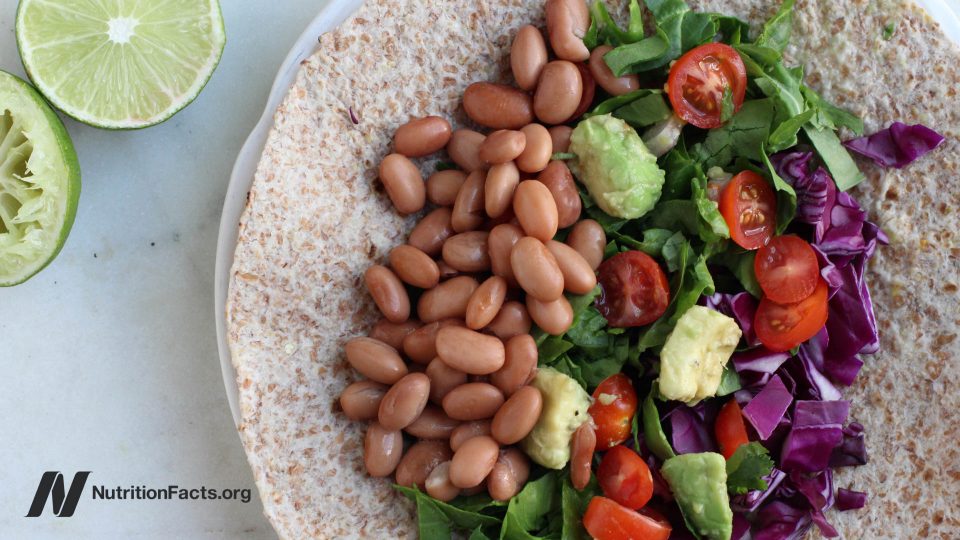 The Best Diet for Colon Cancer Prevention
What would happen within just two weeks if you swapped the diets of Americans with that of healthier eaters?
Live Q&As – Sept 19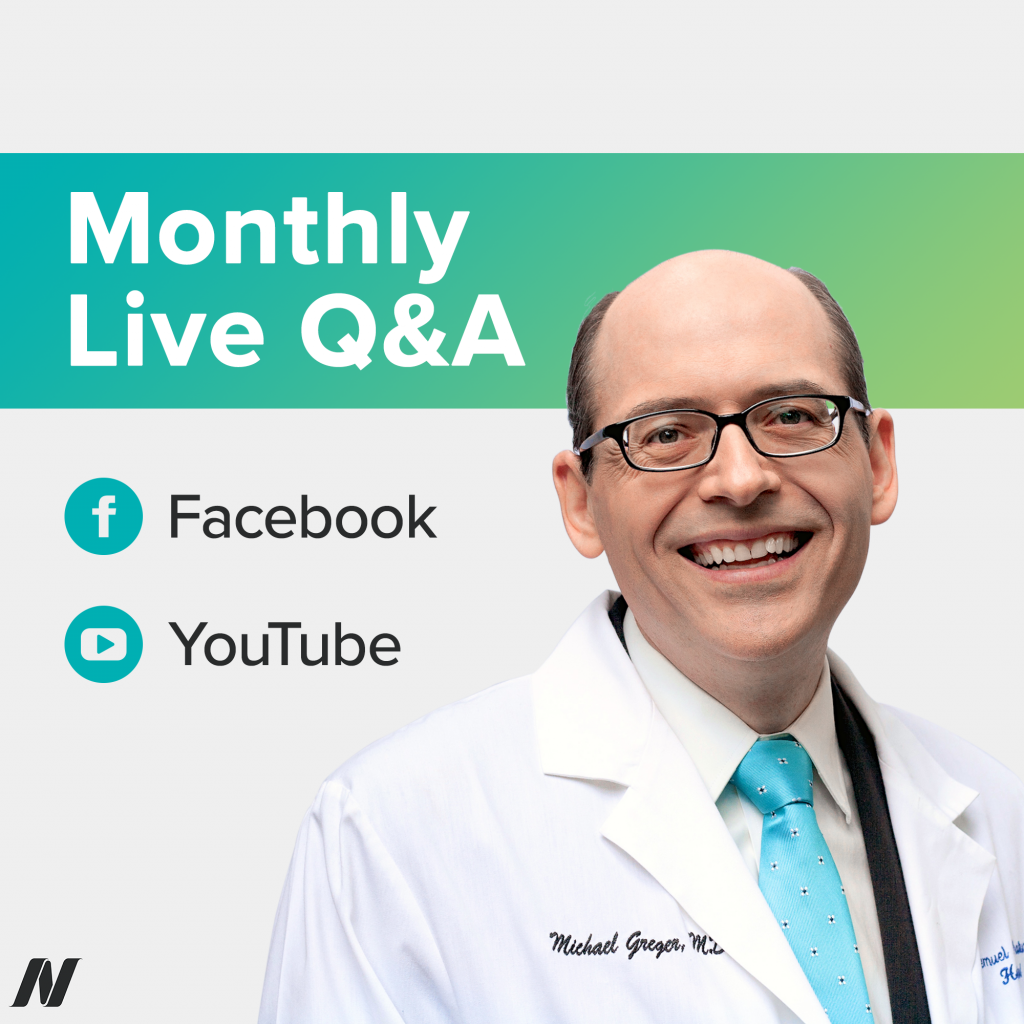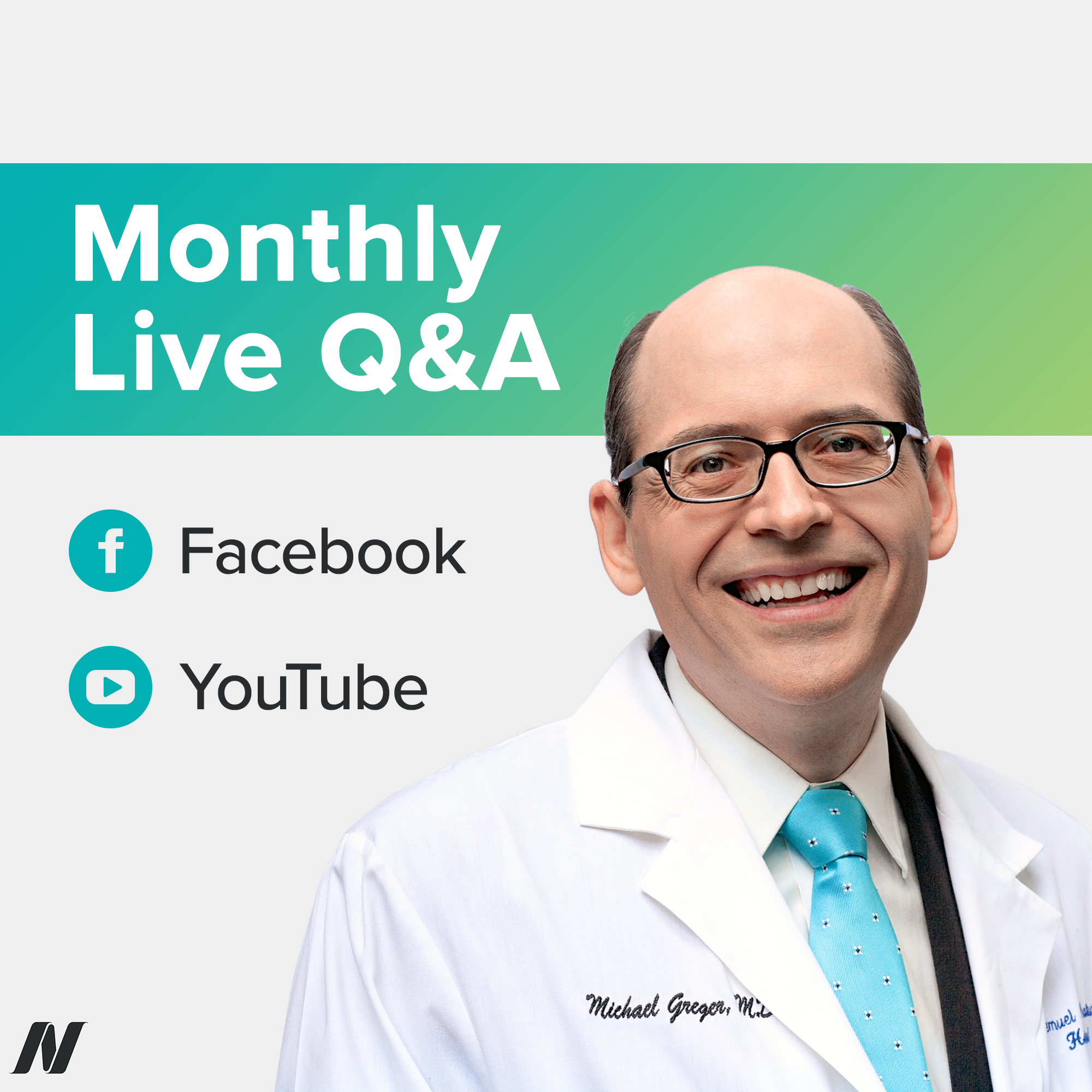 I won't have a live Q&A this month, but I'll be back at it on Sept 19:
Facebook Live: At 12:00 p.m. ET go to our Facebook page to watch live and ask questions.
YouTube Live Stream: At 1:00 p.m. ET go here to watch live and ask even more questions! 
You can now find links to all of my past live YouTube and Facebook Q&As right here on NutritionFacts.org. If that's not enough, remember I have an audio podcast to keep you company at https://nutritionfacts.org/audio.
In health,
Michael Greger, M.D.
PS: If you haven't yet, you can subscribe to my free videos here and watch my live, year-in-review presentations: