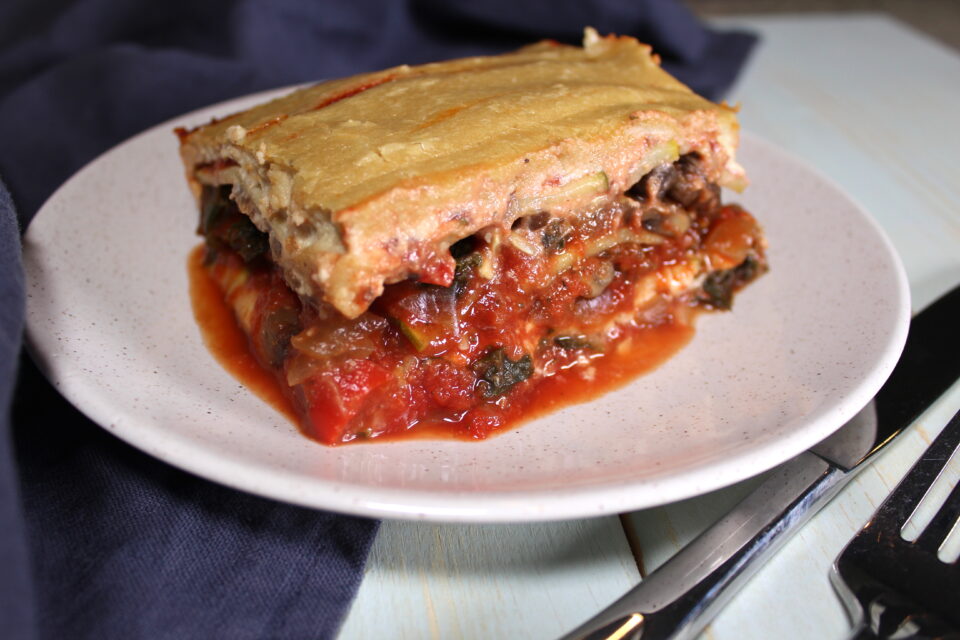 Plant-Based Zucchini Lasagna
Plant-Based Zucchini Lasagna is a delicious vegetable-packed meal that's topped with a creamy cashew cheese and guaranteed to become a favorite. 
Interventional trials have shown that eating nuts improves artery function, and nut consumption may also improve blood sugar control, lower cholesterol, suppress inflammation, reduce oxidative stress, and feed our friendly gut flora.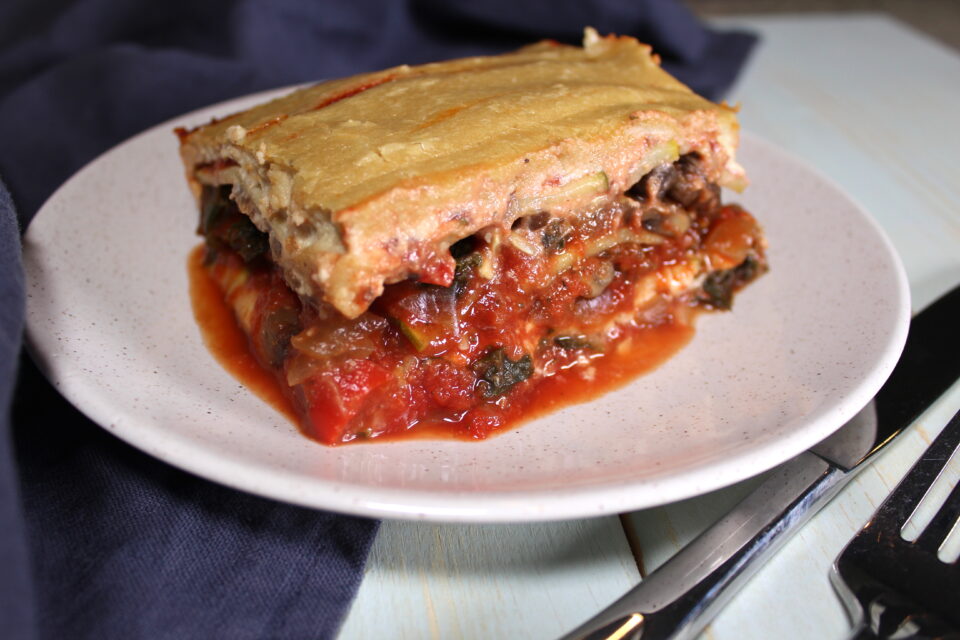 Ingredients
For the Zucchini Noodles:
For the Mushroom Mix:
24

ounces

mushrooms, diced

2

medium onions, diced

1

large red pepper, diced

1

tablespoon

smoked paprika

2

teaspoons

onion powder
Kale:
1

bunch (300 g) kale, chopped
For the Tomato Sauce:
28

ounces

can salt-free crushed or chopped tomatoes

6

ounces

can salt-free tomato paste

1

teaspoon

dried basil

1

teaspoon

dried oregano

½

teaspoon

dried thyme
For the Cheese Sauce:
2

cups

raw cashews

3

cloves garlic

1

cup

water

½

cup

nutritional yeast

¼

cup

lemon juice

¼

cup

white wine vinegar

2

tablespoons

of salt-free stone-ground mustard
Instructions
For Zucchini Noodles:
Preheat the oven to 350°F. Using a Mandolin, carefully slice the zucchini lengthwise to make lasagna "noodles." Place the zucchini slices on lined baking sheets, and bake for about 15 minutes. (This takes some of the moisture out of the zucchini so the lasagna isn't watery.)
For Mushroom Mix:
In a large pan, combine all of the mushroom mix ingredients and cook until the vegetables are soft. (Since mushrooms and onions release water as they cook, you may want to drain off some water if it isn't cooking off.)
Kale:
In another pan, add a few tablespoons of water and the chopped kale. Cook down the kale until it is wilted. Remove from the heat. Once the kale has cooled, squeeze out any excess water.
For the Tomato Sauce:
Add all of the tomato sauce ingredients in a blender, and process lightly to keep some texture. Set aside in a bowl.
For the Cheese Sauce:
Combine all of the cheese sauce ingredients in a blender, and blend until smooth. Set aside in a bowl. 
Lasagna:
In a large glass baking dish, layer the zucchini noodles, tomato sauce, kale, and mushroom mixture. Repeat this process until all of those ingredients are used. Then, pour the cheese sauce on top for the final layer. Bake for 35 to 45 minutes, or until the cashew cheese is slightly browned. Remove from the oven, and allow to cool for at least 20 minutes before slicing and serving.