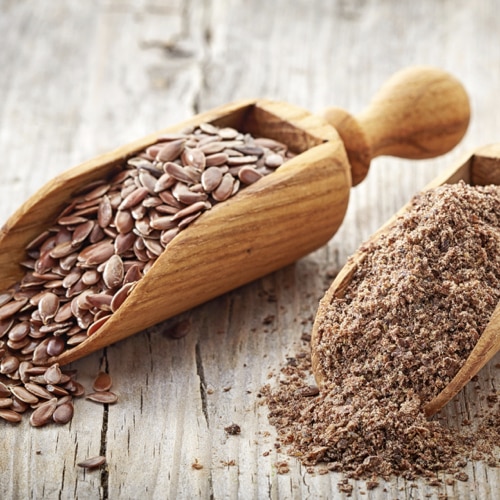 39
videos
Flax Seeds
Flax is the #1 whole-food source of lignans with 800 times more lignans than any other food. The phytonutrient is associated with prolonged survival in cancer patients, especially breast cancer. Flax seeds may be beneficial in suppressing the growth of breast and prostate cancers because when consumed, tumor cell proliferation drops, cancer cell death increases and the c-erbB2 score is reduced. Combining flax with dietary fat restriction may have an even greater effect on prostate cancer.
Scientists interested in looking at flaxseed's cancer prevention powers studied women at high risk of breast cancer. National Health Institute researchers added a teaspoon of ground flaxseed to their daily diet; after a year, they saw lower expression of a proliferation biomarker associated with cancer.
Eating only one tablespoon of ground flaxseed daily may help prevent and reverse diabetes. One study showed that a tablespoon of ground flaxseed daily led to a significant drop in fasting blood sugars, triglycerides, and cholesterol, as well as A1C level.  Researchers believe flaxseed may improve insulin sensitivity in people with glucose intolerance.
Eating flax seeds may also diminish skin sensitivity and improve skin barrier function and condition. In one study, daily flaxseed was shown to reduce high blood pressure as good or better than any other nutritional intervention and as effectively as many hypertension drugs, which can have serious side effects.
Those interested in adding flaxseed to their diet should note that lignans are activated by gut bacteria, so taking antibiotics may impair the production of the lignans.
In addition to their specific cancer- and diabetes-fighting properties, flaxseeds are an excellent source of omega-3 fatty acids, iron, zinc, calcium, protein, potassium, magnesium, folate, soluble fiber and even boron.
Image Credit: Magone / Thinkstock. This image has been modified.
Topic summary contributed by Wyatt and Dawn
Popular Videos for Flax Seeds