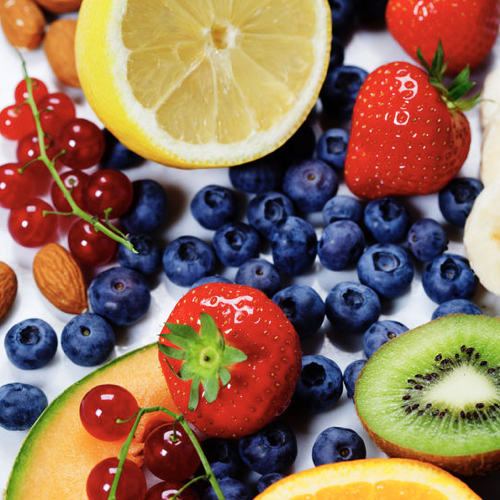 454
videos
Fruit
It took years for nearly 500 researchers from more than 300 institutions in 50 countries to develop the 2010 Global Burden of Disease Study, the largest analysis of risk factors for death and disease in history. In the United States, the massive study determined that the leading cause of both death and disability was the American diet, followed by smoking. What did they find to be the worst aspect about our diet? Not eating enough fruit.
I recommend one daily serving of berries (half cup fresh or frozen berries, or a quarter cup dried) and three daily servings of other fruit (a medium-sized fruit, a cup cut-up fruit, or a quarter cup dried). Why do I single out berries?
Berries are the healthiest fruits in part due to their plant pigments. They evolved to have bright, contrasting colors to attract fruit-eating critters to help disperse their seeds, and the same molecular characteristics that give berries such vibrant colors may account for some of their antioxidant abilities. Berries are second only to herbs and spices as the most antioxidant-packed food category. As a group, they average nearly 10 times more antioxidants than other fruits and vegetables (and exceed 50 times more than animal-based foods). Berries offer potential protection against cancer, a boost to the immune system, and a guard for the liver and brain. An American Cancer Society study of nearly 100,000 men and women found that those who ate the most berries appeared significantly less likely to die of cardiovascular disease.
Indeed, adhering to just four simple healthy lifestyle factors may have a strong impact on chronic disease prevention: not smoking, not being obese, getting a half hour of daily exercise, and eating healthier—defined as consuming more fruits, veggies, and whole grains and less meat. These four factors alone were found to account for 78 percent of chronic disease risk. If we manage to tick off all four, we may be able to wipe out more than 90 percent of our risk of developing diabetes, more than 80 percent of our risk of having a heart attack, cut by half our risk of having a stroke, and reduce our overall cancer risk by more than one-third. For some cancers, like our number-two cancer killer, colon cancer, up to 71 percent of cases appear to be preventable through a similar portfolio of simple diet and lifestyle changes.
The information on this page has been compiled from Dr. Greger's research. Sources for each video listed can be found by going to the video's page and clicking on the Sources Cited tab. References may also be found at the back of his books.
Image Credit: Natalia Klenova © 123RF.com. This image has been modified.